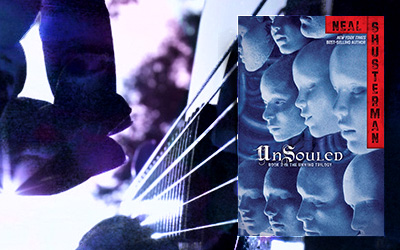 It's official, this is one of the best dystopian story I've ever had the honour to read!
To be this connected with the characters, this emotionally invested in the story, this awestruck with the world building and the amazing, mind-blowing plot.. It feels like a gift, there's no better feeling in the reading world.
Looking back to where it started, making an inventory of all the characters that came along since there, and watching their paths converge time and time again… I tell you, this story is an actual masterpiece.
My mind is a bit fuzzy, I've been on an Unwind marathon and it's hard to pinpoint (exactly) all the qualities this particular book has inside the series. It picks up right after the moment when all hell broke loose in the graveyard (where the last one ended) and it takes all characters on this awesome adventure around the US.
All puzzle pieces start to fall into place, unlikely alliances are made, people tag along for this journey in order to find a way to freedom, while others make their own goals and plan to reach them, sooner rather than later.
Our trio gets together and apart more than not (in one format or another), the reunions are bittersweet and unexpected. More villains start to track their movements and I can't describe my excitement towards the next book in the series, as this one left me breathless and begging for more.
I've said this again and again, I'll do it once more: what makes this story this amazingly great is the plausibility of it all. Yes, there are many fortunate and unfortunate coincidences, I'll give it that – though I think that this is part of its charm, but the overall story, the world itself (so complex and mind-blowing) is painfully realistically portrayed.
This series is breathtaking.
It is mind-blowing.
It sweeps you out off your feet.
It puts things into perspective.
It gives you a sense of what humanity is, and what the lack of it can mean for the human kind.
It is gruesome and awesome and I can never have enough of it.
I've written an article a while ago about my "book bucket list". "Unwind" has been featured in it and now I have a few hounded pages worth of more reasons for it to be there, for thinking that it is one of the stories that will haunt me years and years to come, one that would define me as a reader, maybe even as a human being.
I am humbled by the beauty and the complexity of this series. By the power it hides behind its words.
This is a world I wouldn't want to live in, not in a million years, but I can't help being drawn to it like a moth to the light of a flame. It lures me in, it piques my interest and I am still hungry for more.
When I first heard that the story would be made into a series I didn't know what to think of that decision. It took me two books to realize that it was the best choice. In UnWholly I didn't know where the story was supposed to go, I didn't know what all those characters were meant to thrive, but now that I see more of the bigger picture I am actually impressed.
I don't want to say much about the story because it is better if you just enjoy it on your own, but I will tell you a few words about each character.
THE CHARACTERS:
Risa is just as strong, alone, untrusting as before and she makes human mistakes, but that only makes me like her more. Connor is shattered by all the things that happened to him, all the bumps in the road, the memory of his family is haunting him, but I think that he is still in a better place compared to the former book. Cam is confused, I was a bit scared by the feelings he still keeps for Risa, but interesting things happen with him and all path lead these 3 characters to a point where they get reunited.
Bringing them together also brought some great dynamic to the story (I was glad that they didn't tear each other apart, though I think they could still find a way to do it, LOL) and having some other characters in the way makes for even more interesting moments. 
Grace is an amazing addition, she is smart and witty and I loved her in the story so far. Her brother Argent is a new villain, and next to Nelson and Starkey he is such crazy force in this game against the clock. Hayden is simply great, I just love that guy, I loved him from the very first time I met him in that shipping box and I have high hopes for his part in the finale.
CONCLUSION:
So, what can I say, I loved this story page-by-page and bit-by-bit. It is amazing, it is confusing, it is magical in a gruesome kind of way. I could never recommend it enough. Now I'm off to review the next one. See you soon.
Happy midnight reading and.. stay whole!

PS: I haven't felt this way since Newsflesh (another series that I recommend). Amazing stories are simply amazing 😀
Short interview:
Neal shusterman shares the secrets behind the new york times bestselling Unwind Dystology: