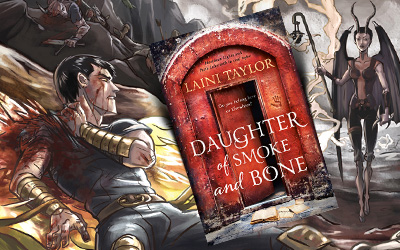 I was hooked from the very first page..
Yes, I can say that again.
My mind is full of beautiful stories of angels and demons (is that the right word?), stories of love and hope, stories of mythical creatures in a war as old as the world itself…
My mind is screaming: I want more, I need more!
One word: Hope
Two words: Amazing story
Three words: I LOVED it!
Four words: Go read it NOW!
Karou was one of the best female characters I've ever read about. It's strange because she was so different than me, but I could so easily relate to her, to her thoughts, her feelings, her deepest wishes.
"Karou?" Akiva knew that word. It meant 'hope' in the language of the enemy […] "Who is she?"
She is a beautiful girl with blue hair and a great talent for drawing. Her artworks show a different world with strange creatures and their stories.
For everyone is just a lot of imagination.. for Karou, this is the story of her life.
But what is her life made of?
Love:
Oh, how I could relate to her, to her theory about butterflies, to the need to feel them in your stomach.. but can you really miss something that you know you never had? I think that you can…
"Papilo stomachus: fragile creatures, vulnerable to frost and betrayal."
Longing
It's hard not to know your own story, not fitting in any world, always in between, always in the shadow, always looking for something and not knowing what, always missing something that you never had.. She always wanted more, she always needed more..
"She craved a presence beside her, solid.

Fingertips light at the nape of her neck and a voice meeting hers in the dark.

Someone who would wait with an umbrella to walk her home in the rain, and smile like sunshine when he saw her coming.

Who would dance with her on her balcony, keep his promises and know her secrets, and make a tiny world wherever he was, with just her and his arms and his whisper and her trust."
Friends
I loved her best friend Zuzana.
She was funny and supportive and I wanted to be her friend too.
She was the anchor that kept Karou on this world, the sunshine in her life.
"Hey! My body may be small, but my soul is large. It's why I wear platforms. So I can reach the top of my soul"
Also Karou's ex-boyfriend was such a piece of work. His confidence and charm made me smile a lot. I wanted to go in one of his tours, I wanted to know him better..
I know, I was not suppose to like the jerk, but even Karou wasn't entirely immune to him.
Wishes
Oh, keep in mind these wishes, as silly as they are. They are the essence of Karou.
"I wish my hair was blue"
I kept asking myself why did she want all those things..
He shook his head, sorrowful. "You can't know. You can't know until you know."
Goulash
Because nothing is better than eating at Poison Kitchen – to be honest I even tried to google it, in case I get a chance to visit Prague. Deep down I wanted it to be real.
Family
There was a lot of mystery surrounding the 4 creatures that Karou thought they were her family.
And at some point I thought that I had them figured out.
I was wrong, so wrong, I wish I could start reading this story all over again and see the signs, because I bet there were many, I wish I could give them a big hug, I wish I could see them all (as grotesque as their appearance seemed to me), I wish I knew them sooner, and so does Karou.
Mystery
Karou's life is full of mystery.. no, it is a mystery.
And as the book reveals new layers of her true story, of her life, of everyone around her, we get the chance to know more not only about Karou, but also about all those creatures that are part of her life.
"I like my story better. I'd rather be made of tears than darkness"
Prague
This is the only place Karou can call "home". She's been in so many places, trying to fit in, trying to make a life there, but the only place of her own, where she had a friend, was Prague. Even though her heart and thoughts belong to "Elsewhere".
"The streets of Prague were a fantasia scarcely touched by the twenty-first century – or the twentieth or nineteenth, for that matter. It was a city of alchemists and dreams, its medieval cobbles once trod by golems, mystics, invading armies."
Hope
If I should put this story into a word, it would be "hope".
Not only because this is Karou's name, but because this story is about a magical world, and magic in fact is hope.
"Hope can be a powerful force. Maybe there's no actual magic in it, but when you know what you hope for most and hold it like a light within you, you can make things happen, almost like magic."
I left Akiva out of this review on purpose – I will let you uncover his story on your own, but I will give you some clues:
eyes like fire
love
wishes
cathedral
hand-print
battle field
masked ball
Madrigal
You might think that I've said a lot, well I said nothing.. There so many stories and twists into those stories – this book will have you hooked from the first page until the very last one, and let me tell you this: sometimes the ending is just the beginning.
Happy midnight reading!
PS: Oh this series!! So beautiful – all of it! I love it so much! I can't imagine a world without this story in it.
My only wish:
… Is now to find this set, to have it on my shelf and love it forever
… And if someday the graphic novel will become reality.. Oh my, that will be a dream come true!
Favorite Quote:
Image sources: Karou and Akiva, Karou, Electric blue girl, Rain girl, Wishes in the Moonlight, The Amazing Dancing Puppet