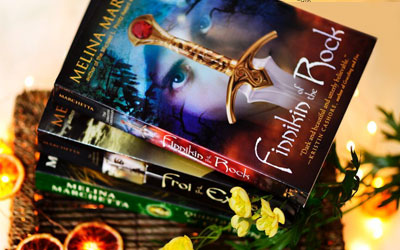 This story seems to sing to me – a song of a magical time and a magical land, a song of both love and despair, a song so sad and beautiful that could cut one's heart in two.
The Lumatere chronicles is one of the most wonderful stories you can find, with gorgeous prose and amazing characters. In fact, at this point I don't even know which is my favourite character, they are all a part of me and I have their stories inked on my heart.
"What surprised me, though, is that I think the entire trilogy began as a story about two people, but by the time I finished it, there were six main players and a supporting cast, and every single one of them counted" ~ Melina Marchetta
I've already reviewed the individual books (Finnikin of the Rock, Froi of the Exiles, Quintana of Charyn) and shouted my eternal love for them from the rooftops, but here are my latest thoughts after re-reading it (I've lost the count of how many times already) and falling in love with it once more.
Finnikin of the Rock
8 years ago I was enjoying for the first time one of the most astonishing stories I've come across so far and the best fantasy series in the bookish world… if I say so myself.
A story of great loss, of curses and anguish, but also hope.
A story with the strongest characters in front and the brightest author behind.
A story that takes my breath away each time I re-read it, one that sings to my heart and fills me with such ineffable emotion.
Finnikin of the Rock is the beginning of a journey, but it's so perfectly defined and refined, it's hard to believe that all that development takes just one book. And as fascinating and entangled the magical plot is, just to wait for the next 2 books to see how much more magnificent Marchetta's mind can be…
It might break your heart, it might chill you to the bone, it might fill you with despair, but also glee… and I assure you that it will all be well worth it – because Lumatere Chronicles is one story of a kind!
Find my former review here.
Froi of the Exiles
When I first heard that Froi was going to be the lead character in the sequel to "Finnikin of the Rock" I think I might have given a silent cry inside, as I despised that pitiful young man in (most of) the first book.
Little did I know of the tremendous growth he would go through, the strengths of his heart and the smarts of his mind, or the power of the song sleeping in his blood.
Little did I know indeed… Froi did not end up holding only the future of Lumatere in his hands, but also my heart.
I thought I couldn't endure more heartbreak after Finnikin's story ended, but there was so much more anguish to be had in the following book(s).
Take one assassin with a past lost in time, one cursed kingdom with a bloodied history, an unwanted princess with a broken mind, a group of people who you can love to hate and love some more. Place them all on a path that will both break and mend their spirits, twist their beliefs and open their deepest wounds.
And when it all ends don't hide your tears – when you love so much a story that it makes you shout to the stars, it's only fair to be overwhealmed by the intensity of your emotions (all that love, too much hate, so much rage, such bittersweet happiness)..
"You keep safe, Froi. Keep safe and come home to us"
It's strange how the turnarounds and the revelations still give me the chills even after re-reading it all these many times, but my love for this story can only grow…
Find my former review here.
Quintana of Charyn
I can't measure the worth of this book (this entire story) in number of stars. Entire constellations would never be enough. The known universe might not make it justice.
All that I know is… the endless love I hold for these characters, the deep respect for the brilliant author, the sorrow and happiness that followed me throughout the story, the intricately woven plot twists by which I was left aghast and teary-eyed, the satisfying sigh I gave at the end. My heart never stood a chance, it fell in love over and over again, from the first page to the very last.
How does one measure that?
"[…] today, I think I'm leaning on the side of wonder" and I have no idea what you're reading, but I hope it's just as spectacular and fulfilling as this series is to me!
Find my former review here.
Conclusion
I bow to you, Melina Marchetta!
I've read hundreds of books, but none quite as impressive as yours.