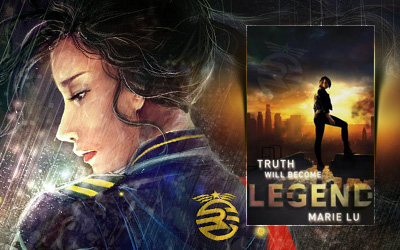 Quick post re-reading update:
You know those books you read that seem to get only better with time? That you like the first time around, love the second time, and then love seems only to grow to adoration from there on? Legend is one of those. The original rating was 4.5, but it has 5 shiny stars now as the more I understand it, the more fascinated I become with this world and these characters.
Full review:
I am always afraid to read a book that I've been holding my breath for it to come out. Legend is one of those.
I had high hopes and I am glad to say that my expectations have been met. Because Legend was everything I wanted, it's a story I will be definitely coming back to and I can't wait to see how it evolves from here.
I was really eager to meet Day.
I've heard a lot of good things about him and I was pretty much intrigued, for lack of a better word.
Even though in the last half of the book he was more or less absent, I got to care more for him and to understand him better (more even compared to June).
He was an interesting character – he was smart; he had some great physical abilities that kept him alive in the past 5 years; he had a great family he cared about and his love for them was heartbreaking, his desperation so strong.
He was the victim of so many turnarounds and I felt a need so raw to protect him, I wanted to take his pain away, feeling a deep sympathy and sorrow for him.
Also, I liked his friendship with Tess and how he cared about her, how they needed and helped each other.
At the opposite side there is June – as it seemed that she had it all too easily – she was the Republic's favorite, her brother's little angel; she thought she could catch Day and she did it in a such easy way (beginner's luck and all). Also her tragedy belonged mostly to the past. I felt like I didn't witness any of her tragedies and compassion never came fully.

She lost her parents but I didn't see a strong connection between them so I didn't feel her pain.
She lost her brother (and I felt sorry about it because I really liked Metias, as little as I got to know him. I knew he was suppose to die but still I hoped for this to change somehow through the story) but it was all so quick, again I didn't feel her pain.
But what I loved about her is that she kept true to her beliefs until the moment she had some good reasons to not trust any longer the world she was living in. She had her priorities straight – she wanted to catch her brother's killer and she never let her feelings change what she knew she had to do.
More than that I appreciated her devotion – when she has something in her mind there was nothing in this world that could stop her. She always has a plan and, no matter what, she finds a way to achieve it.
Really, June is one of the best female characters and i think that she and Day would really make a great team, a great couple.
What I liked about this book is the action and turnarounds. I liked how I thought I had it all figured out one moment and then something went terribly wrong. It made me hold my breath through the story and I couldn't put the book down until the very last page.
Still, I felt there was something missing.
The book is quite short so at the end there was this need for me to find more about the world they lived in. The book didn't deliver much information regarding the world building mostly because the characters were a bit clueless about everything that was happening around/behind them. This might change in the next installment so I am not complaining too much.
Also the relation between Day and June felt a bit rushed and underdeveloped. I expected a bit more chemistry. The days spent together were not enough for them to grow some strong feeling for each other (even though June didn't seem like the usual silly girl falling head over heels in love at first sight and then leaving all behind for those feelings – June was definitely better than that and I really appreciated it for a change.)
Now I can't wait for the next installment. I want to know more about Day, his past, his brother and his dad, I want to know more about June's family and the biological weapons. I want to see Day and June together, fighting this world… What can I say, my expectations are high again!
Happy midnight reading!

 Note: The Romanian version of the review can be found here.

Related article:
Until the day that I meet Day – with a cute illustration about Day being the protagonist of this story.
Later Edit: My feelings after re-reading this story in the Collector's edition – here.

Fan-made trailer: