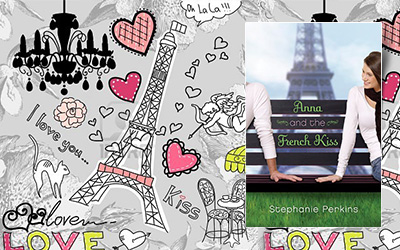 'Oh heavens'… this book was hilarious!!
I loved reading it (twice) and I would read it again simply because it is too cute for words!
It reminded me of myself in high school, and it really felt natural, real.. I can't even tell you what an amazing pleasure reading this book was. And it's so, so funny, my face hurts from so much laughing ;))
I loved the characters (all of them!), I loved the dialogue (I just could picture those people in front of me talking, and laughing, and teasing, and fighting and all.. it felt so natural), I liked the relation between Anna and Étienne (and gosh, even reading his lines I could 'hear' his british accent) with all the ups and downs, I loved all the conversations between them (including email/phone), all the moments when they were alone… and the ending was really sweet and it made me happy.
Also I liked the fact that (in this book) friends where there for a reason (not just for us to know that the characters are popular, or not so alone), and they were hurt when left behind, and they made mistakes but had the strength to say they were sorry.. I know that I said this before but it really felt real, like a real story about real teenagers with their problems and their falling in love..
"I'm not sure how to order."
"Easy," Josh says. "Stand in line. Tell them what you want. Accept delicious goodies. And then give them your meal card and two pints of blood."
"I heard they raised it to three pints this year," Rashmi says.
"Bone marrow," Beautiful Hallway Boy says. "Or your left earlobe."
And Anna had such a great 'voice' I loved to 'hear'. She was funny with all her sarcastic attitude, and I enjoyed her story laughing and hoping that everything would end in a good way. Even if her main interest was a boy, this wasn't presented in an annoying way. She was very critical about her attitude, about her feelings, and she knew when she was wrong but she couldn't help it, and this made me like her more.. because girls are like that sometimes, I was like that..
The only problem I have with this book is the title (how can I go telling people that i love a book named 'Anna and.. the french kiss'?! They didn't even kiss that much anyways, LOL, it's king of embarrassing for a favorite book title, at least at my age)..
I know, before I almost didn't read a good book because of the cover and now the title made me think twice, but well, I am glad I read all those good reviews and changed my mind, because it's definitely worth it..
I will keep an eye on this author, because this was just my type of read.. sweet and fun 🙂
Favorite quotes:
"I wish friends held hands more often, like the children I see on the streets sometimes. I'm not sure why we have to grow up and get embarrassed about it."
Watch the fan-made book trailer:
The Book Boyfriend Game
See my version of Etienne: Etienne Saint Claire
Movie of choice
When I think about this book I also think about this movie:
Letters to Juliet (2010)
What can I say – I love the kissing-in-the-grass scenes 🙂