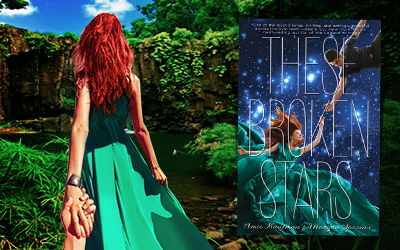 One of my top favourite stories!
"These Broken Stars" reminds me why I love reading so much.
How trilling it is to dive into a new story, a new world, new lives and new adventures that leave me breathless every time… Breathtaking – this story is indeed!
I went into it blindly, not reading a thing about it. I fell in love with the cover, which was enough to sweep me off my feet, but what was hidden between that beautiful cover and the damn last page (that came into view way too soon) is such a wonderful story that made my heart ache.
"For a moment the image before us is frozen: our world, our lives, reduced to a handful broken stars half lost in uncharted space. Then it's gone, the view swallowed by the hyperspace winds streaming past, blue-green auroras wiping the after-images away. Until all that's left is us.
This is such an unusual & original story. I have nothing to measure it against. It was nothing like I thought it would be. The world building is awesome, the action is trilling, the characters are strong and determined, the turnarounds made me tear a bit and the ending left me full of hope.
I am glad that the next book won't be about the same couple (or so I heard) as they've been through too much, through hell and back and I want to keep hoping.
Well, I am no fool here, I know that this will not be the end of their story, someone that has built such an empire won't so easily be set off track, not with the secrets Lilac and Tarver share, not with the truth about her. But I'd like to be left guessing, I love this feeling of closure & hope and I am gonna stick with it for as long as I can.
Back to the point, THESE BROKEN STARS tells a story about survival, about love, about deadly secrets and hope that can make a heart beat again. I was lost into this story right at the beginning and as the story progressed I simply couldn't stop reading.
To put it simple, we have our sweet couple (the rich girl and the famous but poor soldier) thrown into an unknown & mostly unwelcome world, surviving a deadly accident (that might or might not have left other survivors) and being forced to cooperate in order to keep alive, which turns out to be hard when they both are as stubborn as mules.
But to be honest, this story is anything but 'simple'.
So we find a bit about the society in which our characters live with the ups and downs on both sides.
We find about their fears and hopes. We find about the mysteries of this new planet. We watch our characters struggle to move on and find a way back home. And yes, slowly they start to also fall in love, and it's a bitter-sweet story because there is a lot of pride in the middle and some secrets to fear of. Not to mention that there's a world of a problem that could tear them apart.
Still, what I really loved in this book is watching these broken characters start healing through what they're forced to survive together – they grow stronger, more defined with each page and they start to see this world and the freedom it offers with different eyes.
THE CHARACTERS:
I like to read about strong heroines. And Lilac might be a princess-alike rich girl in the beginning (who might pass as spoiled at times), but she definitely knows how to stand her ground – even when it starts to shake beneath her feet, even when she has to deal with the fury of a nature about which she knows nothing about (having lived in a climate controlled environment her entire life). It was actually great to see the new planet through her eyes, to watch her discover the beauty of nature on her own. Also I loved to see her grow through the story in every way.
"Would you like a rest?
"She considers the question, then nods, reaching up to tuck her hair back where it belongs. "Where will I sit?"
Sit? Why, on this comfortable chaise lounge I've carried for you in my pocket, Your Highness. So glad you asked.
As for Tarver, he was really great.
He was a soldier at heart. He never fitted in the middle of all those rich people on the ship and being on solid ground made him feel better in a way. Still, he found himself in a very unusual situation – thrown into a mysterious world, unlike any he had seen before, with a civilian that knows nothing about real things or survival. But he managed pretty well to keep them both alive, even though dangers were following them at each step. His sarcasm made for a good laugh and his compassion made me like him even more.
Their relationship was quite complex. It started with attraction while on the ship, but then the necessity to survive was stronger than everything else. So they had to start all over again and begin to trust each other even though they were so different and didn't get along at all for a while. I laughed too many times to count at their little fights, and I loved to see them start growing closer, becoming friends and them letting their feelings grow into something more.

ALL THE THINGS I LOVED ABOUT IT:
This is actually nothing
new
, just another way of saying how awesomely great this story is:
There is a lot of character (&relationship) development – which means that this is the perfect book for me. It is written from both points of view and there is a huge difference between them (well, with 2 authors in the middle I would otherwise be surprised) and you can understand better both Lilac and Tarver's actions, also see the new world through both their eyes (such different points of view).
Before each chapter there is an interrogatory from Tarver's POV and I loved his cynical tone – so different from the one he uses when he tells his real story. It adds some mystery to the book too, as in this way you know that he's been found, still you know nothing about Lilac and their journey and you become eager to find out more. He is teasing you with his answers, but also giving you some hints regarding what it is to come next.
"Major, to what extent did you act upon your feelings for Miss LaRoux?"
"Medium."
"Excuse me?"
"How am I supposed to answer that question?"
Yes, I did tell you how much I love it, but what you don't know is just how much I appreciate when a cover is made specially for a book – with models chosen to better impersonate the characters, such that they can tell us a bit about the story.
It would have made for a long title to add here: the prose, the romance, the sci-fi elements, the character development, the world building and some other things that together turned this book into such a great one.
But really, the final book is a perfect mix of all those elements and I simply can't wait to read the next one in the series.
Wonderful! I hope that you will enjoy it just as much!
Happy midnight reading!

Early review: ARC received for review from the publisher. I can never thank you enough!

 Note: The Romanian version of the review can be found here.
"THESE BROKEN STARS" Extras:
* As promised, a picture of me with my paperback.
** Note that my fan-made images do not feature actual quotes.
Question:
Will These Broken Stars have a sequel?
"Yes! That said, the sequel of THESE BROKEN STARS will not focus on Tarver and Lilac. Their story ends after book one, but the action in book two will be picked up by two new characters, Flynn Cormac and Jubilee Chase. (Don't worry, they're just as awesome as Lilac and Tarver.)
Music of choice:
The full lyrics have nothing to do with the story, even though (somehow) the music has a similar feeling. Still…

It's you, it's you, it's all for you
Everything I do
I tell you all the time
Heaven is a place on earth with you
…
It's better than I ever even knew
They say that the world was built for two
Only worth living if somebody is loving you
An' baby, now you do.
As for Tarver, I think he will dedicate this song to Lilac:
And I know I've featured it before, but I simply love this song and it is perfect for these characters that love each other as much as they do.