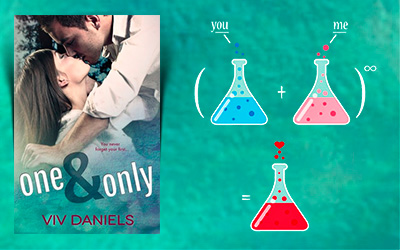 Such a beautiful, BEAUTIFUL story!
NA is not a genre that I easily enjoy, but every now and then I find a captivating story, that keeps me interested and it makes me love the characters so much that I wish I could befriend them just to spend more time with them..
A lot more even.
"One & Only" is a very sweet, cliché-free and fun story about new beginnings, about finding yourself and (of course) finding love in the process. It has a lot of depth, great character development and the romance is intense and beautiful (though a bit frustrating too, because that's how love always is).
It is also a double love story – it starts with a summer program that opens up new opportunities for both Tess and Dylan, one that also brings them together, tying a cute friendship, slowly making them fall for each other passionately, showing them just how perfect they are as a couple and as partners.
Still, summer loves are like summer rains – they just come and go, in the blink of an eye – and soon the couple tears apart for reasons that only Tess would know… But destiny plays a new trick on them: it brings them together when they least expect it and it's time for Tess to make a choice: learn from the past and make her own future OR live forever with the weight of her own regrets.
More than that, "One & Only" is at its core a story about friendship, about family, about mistakes, about lies. It's a story about figuring out what is right, but also about fixing what is wrong (or trying to).
Tess is an amazing lead character – she is very smart (passionate about science & dedicated to her studies), open and fun to be around. She is also a secret to be kept, a shadow of another family (as the illegitimate child of Steven Swift, as the product of a love affair) and most of her life has been ruled by her father. But she is sick of the rules, of the secrets, and when the moment comes for her to shine she takes that opportunity and makes her own path away from her father and even – a tiny bit – against her compliant mother (a woman she loves deeply, but one like whom she doesn't want to become).
Tess' insecurities and worries are all understandable, she does make some mistakes, she does experience disappointment, but she deals with it like an adult. Going to Canton the first time was her dream and she gave it up to please her father, but there are dreams she just needs to follow no matter at what costs.
Dylan on the other hand makes his own path, his own decisions. He did start as a cute, nerdy, slightly chubby and not all that popular guy. But he's grown into a beautiful man, he has left his nerdy looks behind, he's gathered a lot more confidence, his life is filled now with success (as much as one can have in college) and his only regret is probably losing Tess – as she was his first love, the girl of his dreams, and she broke his heart that summer by vanishing without a trace.
What I liked about this character was how brilliant and driven Dylan is. And how nice, confident, smart, sexy (no dark past, thank god; no possessive behaviour, double the thanks) and also dedicated to reaching his dreams. He's also unapologetic about his geeky personality, he values honesty above everything else and also he is a great friend, paying attention to details and trying to help when he can.
And so a new love story begins… Tess and Dylan make a perfect team so they try to go back to their friendship, to work together in order to achieve their dreams, though also they need to fight their undeniable attraction when all those dreams become of each other.
But secrets tend to catch up and to catch on fire and, when their passion ignites like fireworks, there's no place to run away from them. Because it's not the past only separating them now, but Hannah – Dylan's girlfriend and Tess' secret half-sister.
Romance aside (which was tasteful and realistic), "One & Only" also gives insights into a broken family and the struggles to keep it safe from all the secrets they keep, it gives insights into the college years and what means balancing school and work and awkward social interactions.
Most characters in this book have depth – from the selfish bastard of a father, to the affectionate and loving mother; from the great, supporting friends to the jealous college colleagues; from our sweet couple to the one that stands between them. They weren't only good or bad, but they fell somewhere in between; they all had qualities and flaws and I hope to see some of them in the next book.
Take Hannah for example, she resulted to be quite a lovely girl. Of course her experience was different and she was raised to be a lot more confident and used to have whatever she wants, but she wasn't bad at all. She does not become the evil just to justify a happy ending – and you can't imagine the amount of gratitude I felt for this alone.
This book is so much more than just a love story, but at its center indeed love stands.
You know, if Etienne and Anna would have been older when they met, this might have been their love story – because Tess and Dylan were just as sweet, playful, wonderful as friends and their attraction just as palpable, their lives just as complicated.
Conclusion: Such a beautiful book. Highly recommended. Where's Hannah's story, I want it right now!
Happy midnight reading!

Bookish ramblings from when I first read it:
4.5 stars, that means 'myth busted'! New Adult books can actually be good, contrary to my most unpopular beliefs. Yes, they can have fluid plots, lovely characters and be very well written.
Who knew that I could read a NA book late in the night, in one sitting, enjoy it fully, not once rolling my eyes and loving it so much I simply couldn't wait to tell you all about it… And once again it comes from an indie author (I tell you: hidden gems are the best!).