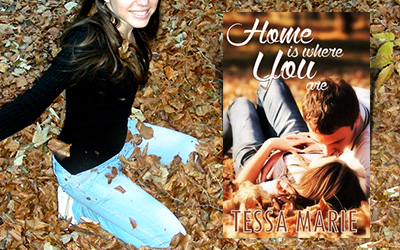 I wanna hug this book!
This story has found a soft spot in my heart and it simply decided to call it 'home'. I love it when it happens, when I don't expect much but I fall hard for a story, when the characters are so adorable that I want to take them home with me. And this book here was amazing in so many ways.
If I were to describe it in one word only, I would say: hope.
To be honest, I feel that the synopsis doesn't make this story justice. It makes it seem quite shallow, though instead it is a deeply emotional story, beautifully written and full of hope. This is not Anna's story (as much as Dean's), though she is part of it and she gets her own most needed healing.
But maybe that's a good thing, as it took me by surprise, and what a lovely surprise that was!
The Story:
"Home is Where You Are" is a story about struggle, about how unfair life can be, but how it can change if you work hard for it (and yeah, if you have a lucky star too). This is a story about broken families and broken hearts, about the process of healing, about how small gestures might feel like they have the power to take the pain away, about how love (in every form, from pure friendship to actual 'love', even simple kindness) can give you the force to move on, defy all odds and just be better.
The characters:
If I loved the story, as emotional and sweet as it was, I must tell you that I found the characters to be absolutely lovely. I rooted for them, I wanted to reach to them and take them in my arms, I laughed with them and felt like crying with them. I cringed at how defeating some situations were, I giggled at their wittiness, because life could bring them down, but they still had the will to get up.
It's like that saying: When life knocks you down, calmly get back up, smile, and very politely say "you hit like a bitch".
For someone who thought that he had nothing left, DEAN surely had a bag full of pride and stubbornness. But there was also so much sadness in his life, I was happy when he got one moment of pure joy, when his brain stopped spinning the wheals and his heart took over, because he needed love, he needed someone who cared for him, though he wouldn't actually admit it – maybe in fear that it would become real, and he's already lost everything real in his life.
ANNA used to live for the others, most of the time. She was the good girl, the best student, she made everyone proud, but deep down she didn't know who she really was. She felt like the projection of everyone's expectations, all different pieces that didn't fit together, so she was in need to find herself and to finally be proud of her own choices.
I loved their banter, the easy relationship they came to have. Yes, he was an ass at times, with a mind set on keeping everyone at a distance, but she could match him at every hour of day or night and she could easily put him in his place with few words. They balanced each other perfectly, as different as they were. And the truth is love can't fix things, but it can help heal. It can show you that you are someone in this life, at least for someone else. Someone cares, so you are not alone anymore.
Conclusion:
It pains me to think that this is only fiction – I would love for all the people in Dean's (similar) situation to get the opportunity to change their lives for better. To find good people that would give them a hand or at least care a tiny bit. I would love to think that there are happy endings left in this world for people in need of them, my heart is breaking for people like a particular someone in this story that didn't get the chance to make the dreams come true.
Thank you, Tessa Marie, thank you for making this book part of my life.
It really left an imprint on my heart!
I tell you, this is a powerful story. I hope that you will feel the same, because there is so much beauty in such strong feelings. Happy midnight reading!

Early review: ARC received from the publisher for review. Thank you!
Expected publication: September 30th 2014
PS: I loved this so much that I attached a personal picture to it – that's me playing with leaves, as the moment relates to the story pretty well. Also, "home is where we are" is a motto I deeply believe in, it's how I feel about my husband, so it makes this book even more special.

Music of choice:
"If one thing I know, I'll fall but I'll grow
I'm walking down this road of mine, this road that I call home…
So am I wrong?
For thinking that we could be something for real?
Now am I wrong?
For trying to reach the things that I can't see?"