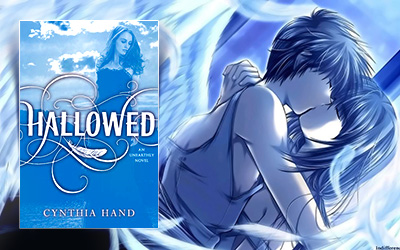 Oh boy, what a ride.
Reading this book felt like flying with the wings wide open (not that I know how does that feel, but I can only imagine): I've been falling in love again with these characters, I've gasped at every surprise, I've smiled and I've even cried, I've felt Clara's insecurities and frustrations, and her need to be happy, to find her purpose and make it all right again, also her need to find her
own
path, to make her
own
decisions. How much of it is just purpose and how much of it is
her own life
?
This book is really amazing, for me it was better than the first one, and I enjoyed every single bit of it – the dreams, the purposes, the teenage drama, the family involvement, the friendships, the decisions and all those emotions radiating from my kindle like heatwaves from hot pavement.. it was all so beautiful I can barely describe it. It was a mix of happy moments and dramatic turnarounds, and more background for the angel theory that not only answered so many questions I had at the end of the first book, but it had also raised so many more, and now I definitely can't wait for the next book to come out and answer them all.
SO, our redhead angel is back – well not so red anymore (not so carrots-alike) but with the same amount of sarcasm, curiosity and passion in all that she does (even the mistakes she makes). And also our boys are back to make Clara's life a bit more complicated (not that it was simple to begin with).
I bet you all want(ed) to know more about Clara's parents, and some things that you didn't really get about the night with the fire, I bet you all want(ed) to know how Clara's life will change now that she has a human boyfriend (Tucker) and she knows more about the boy from her dream (Christian), and if you are like me you want(ed) to know more about her brother as well (I always had this feeling that there is more to him that meets the eye, and as far as I've seen there is even more) ..
So yes, you will get some answers – some of them will surprise you, some of them won't, but for every answer you get another question pops into your mind, so don't worry too much if you get a bid angsty at some point.
This is what I liked about this book – it makes you think .. I never think about angels, I don't believe in them so I'm usually not interested, but this story caught my attention, and I like how this world is described, and I want to know more about it, and it all feels like a puzzle – there are all these pieces I already have, but there are so many more to uncover.
For example, finding about her mother's story only made me think about Clara's (let's call it) 'destiny'; finding about her Dad, only made me think about the Tucker/Christian situation.
At the end I felt like I knew her destination in all this mess, and no matter what Clara will decide I think that she'll get there, just like her mother did, but still, will she?
The most important item in the story is (again) Clara's vision, a dream brought to her from the future, and this dream is the key to so many secrets that will make you happy, but will also make you cry. It will change the course of things, it will make Clara stronger in a way, it will prepare you for what's next to come, because we are only at the beginning, and the best is yet to come.
Now, there is something that i should mention that bothered me a bit (again).. Get this people: Secrets are supposed to be secret by definition!
It goes both ways:
–  when you keep a secret for so long, you don't go afterwards telling everyone about it;
–  when someone (for example your parents) tells you that there's something you must NOT tell anyone, you just keep it for yourself (this is not about trusting someone with your secret, this is about being able to keep one);
All in one this is a great, amazing, wonderful book. There are so many things I would like to tell you, but I'm trying hard to keep this review spoiler-free. Enjoy it!
Happy midnight reading!
Early review: ARC from the publisher. (thank you!)
Book Trailer:
Music of choice:
Ed Sheeran – The A Team
Ok, so you'll notice that the song has nothing to do with the storyline, but I love this part:

It's too cold outside for angels to fly,
Now an angel will die, covered in white
With closed eyes, and hoping for a better life
This time I'll fade out tonight,
Straight down the line
..and the melody is as sad as the story in the book. So enjoy it 😉