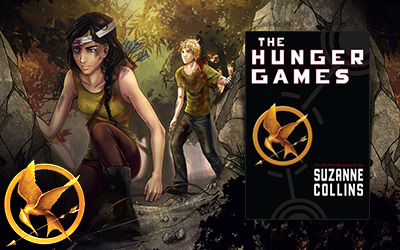 One of the best books i've read. Great job Suzanne Collins!
When you love and hate something in a book with ALL your heart you realize how great that book really is, because it has to be really special for you to get to feel all these mixed feelings and still say that it deserves not only 5 stars, but .. 7.. or 10.
The story is so complex, the characters are so well developed, the new world created by the author is absolutely fascinating, described so well and it seems so real it scares me, because this is not the future I would like for human kind and it seems so possible. Suzanne Collins did an amazing job in writing this books which captivates you from the first pages in such manner that you can't let them go until you reach the very ending.
The story is constructed around a young girl, Katniss Everdeen, who all her life tried to protect her family at all costs and now she must do the last thing she can do to keep her little sister safe: die in the hunger games..
Well, you must be prepared because this is such a powerful story. It takes you in a carousel of emotions and the adventure so great that it makes you dizzy from the speed and all the sudden changes, and the insecurity of not knowing who the enemy is or who you could trust.
There is something that really made me fall in love with the "hunger games", the fact that the characters seem so REAL.. they are scared, they make mistakes, they don't know who to trust or not, they cry for the loved ones, they are so strong in some ways and so week in the others. Also then the dialogue feels so real, the descriptions are amazing, everything is revealed step by step keeping you there waiting for more, needing to know more.. It's all a big puzzle and every time you you feel you have it all figured out you get this big surprise that changes it all.
I don't know this for sure, but I guess this first book is my favorite (as I've read them all), because it sets the stage for the other 2 books and it has a bit of everything: action, suspense, romance, drama, humor..
The most important characters are presented here, and I don't know if it is just because you get to know them better though the story, but you really care for them and want them to be safe.
You start by knowing that there is only one winner in this game, and Katniss is such a lovely girl so you want her to win.. and then you get to know also other people (like Rue and Peeta) and you just want them too so badly to find a way to survive, and you know that it's not possible and this really breaks your heart.
And so, there is Peeta.
I loved him in this book (the truth is that I loved him in the others too, but at the end of the first book I felt the most hopeful about him and Katniss, about their love). I would've probably loved to read something from his point of view, mostly I would've loved to read about the moments when he decided to stay with the Careers to keep Katniss safe (and this is funny because mostly he is the one saved by the other – even by Katniss), i wanted to know more about his reasons, how he managed it, how he really felt.. Because all we know about him is through the other characters and it is not enough for me.
But as litlle as I knew about him I couldn't make myself not loving him. From the moment I read the "bread story", from the moment he declared he loved Katniss, from the way he always tried to protect her, from the way he invited her to kiss him.. from the way he was so hurt by the fact that she didn't love him and only pretended to, but he was still there prepared to give his life for her.. Everything about him was so sweet in this messy world they were part of. Reading about him felt like a summer breeze in all the drama.
All in one: this is such a wonderful book. I would recommend it to the entire world, it touched my heart and I know that I will keep it in my mind for a long long time.
Find about The Hunger Games Movie
Happy midnight reading!

PS: You know what I find really funny?
That in my language Peeta (written "pita") actually means "bread" ;)))