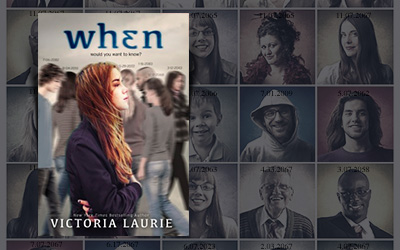 Oh, what a feast for my senses!
My verdict: Incredible, addictive and absolutely well done (in terms of writing style, characters, plot, suspense, even that cute ending)!
"When" (formerly called "Death Date") is an amazing paranormal story full of mystery and turnarounds. It has a gripping plot, great character development.. and for some reason I simply can't get it out of my mind. I really loved it and now its memory is haunting me – not that I'm complaining 🙂
Let's put it this way.. You know that I try really hard not to compare books, still if Unravelling and Deadly Cool got married, I think that "When" would be their awesome, beautiful child. It was fun and also emotional, it kept me on my toes trying to guess who the killer was, and I am big fan of the idea of seeing the death dates of other people (ever since I saw the Nickelback's video "Savin' Me"), so I felt like this book has been written for my enjoyment and mine alone…  And I loved it, I really-really LOVED IT, and I don't know if I'll be able to put into words the immensity of my feelings.
In fact, I want this story to be made into a movie, because that's how it played out in my mind – and if you are curious, yeah, it felt like a mind-blowing mind-movie. Pun intended.
In paranormal-mystery books it's easy to get lost through all so many details and lose focus of what's important, but this story was kept pretty tight – for example, when it came to the investigations both sides had pretty strong cases on their hands (sometimes for the better, other times for the worse) and there was no "I tell you I'm innocent and you believe me, just like that", they needed proof before deciding what to make of the facts presented.
And yes, it was infuriating at times, because I knew the truth but it felt like such a hard thing to prove, but that was also the beauty of this story. It felt real, not that I know much about real-life crime investigations, but still.
I am not sure about you, but I love a good mystery keeping me on the edge of my seat trying to figure it all out. And I'll be honest here: I didn't, I was close enough but I still didn't get it right. Which is good, because with the clues left behind, I still got to be surprised. Maybe you'll be smarter than me, but the story is really great, so it won't take the pleasure out of it if you figure it out beforehand.
I also loved how all threads were entwined, how some of the 'superficial' details came back to bite us when least expected. And I loved the emotional side of it – with our main character feeling guilty for the death of her father, with her needing to take care of her depressed & alcoholic mother, with all the bullying and the need to prove their innocence (because she wasn't the only one accused for those crimes).
The Characters:
I already told you that I loved the character development. I loved Maddie, her uncle, her sweet neighbour and one of the FBI guys (I won't tell you which one). I hated her mother, her teachers and some colleagues with a passion. 
Let's talk about some of them…
Maddie was amazing – she did some pretty stupid things at first (some tiny ones even later) but I understood that she needed to do whatever it took to find the truth and clean their names. She was still a child, but had to act like a grown up sometimes. She needed to take care of her mother, to work for money using her ability to predict the death dates of her clients, to live with the crushing guilt of not being able to change her father's fate. I cared for her deeply, I could easily connect with her and I enjoyed every step of her journey.
Also my heart broke for her best friend, as he was the one suffering the most through all this (well, the dead people too if I come to think about it, but I didn't know them, so I only cared about their connection with Maddie). Great friendship is something that I adore in books, that was a big plus.
Maddie's mother was infuriating.  Aaarh!… I wanted to knock some senses into her, as she was really getting on my nerves with her childish behaviour. Yes I understood her pain, her dramatic side of the story, but I wanted her to realise just how much she was hurting Maddie, how much her daughter needed her. But at least Maddie was not completely alone, she had her uncle to help her, to give her advices, though he couldn't be there for her as much as she needed him to be.
You might need to know that this book was absolutely great, even though it didn't focus on the romantic side – in fact the romance was somewhere way in the background (putting a smile on my face from time to time), just waiting for everything to be fixed before surfacing. And yes, I didn't want it any other way because it worked so beautifully this way. And the ending was so sweet and hopeful.
Conclusion:
Dear Victoria,
I'll be watching you!
You are on my favourite-authors list right now and I can't wait to read another YA book from you.

Love,
A new big fan of yours
Early review: ARC received from the publisher for review. Thank you!
Expected publication: January 13th 2015 by Disney-Hyperion
Music of choice:
As I told you, I loved this idea ever since:
I wanted so badly for someone to make it into a movie, a story, anything. And though the same similar inspiring idea has been found in other books ("Numbers" comes to my mind, though I didn't read it yet) this author made it into an absolutely great story that felt original and exciting. The writing was great, and the book as a whole was everything I wanted and a lot more -I loved it to pieces and I can't recommend it enough.