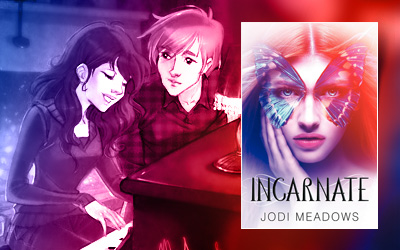 As beautiful as the cover!
These days I'm a bit out of sync when it comes to the books I read.. I like some books that others don't, and I don't like the books the others love, I feel like I'm missing something.
This books is one of the books I loved, while some of my book fellows didn't.. I don't know what's the element that really made me like it so much, but I know that from the very beginning I was hooked and couldn't put it down.
"If I only get one life, I don't want to waste it by hesitating"
The world settling was  great – a mix between dystopian and fantasy (with futuristic technologies but also dragons and other mythical creatures). For me it felt like a parallel world where human (their souls) can reincarnate over and over again, and the city has its own heartbeat. It was intriguing and somehow original, mostly different than what I've read recently… It felt refreshing to change perspective and to get lost in such an unusual world.
The cover is beautiful and it fits the story. This is the 3rd book in the past months that has a masquerade scene in it, and (this time again) I loved it. And I loved how Ana (the main character) thought that she was like a butterfly – it was a good comparison on so many levels.
The characters are complex and they have more than only one layer. It is the world that make them different than us, that make them act differently, feel differently, be something entirely different than us.
– Ana
She is a 'newsoul'. That means that this is  her very first life. In a world where for thousands of years people have reincarnate over and over again, she is the only one new – the only one without a past, without memories, without friends from past lives. Her mother who resembled a regular evil fairytale stepmother, made her think the worst  of herself.. made her think that she has no soul and she doesn't deserve the life she has. Why is that? Because before  Ana was born, another soul vanished forever (it never came back to life again) and that soul was her mother's best friend.
– Her mother
Of course in our world it is hard to understand how someone could care more about a friend that a child, but think about the fact that in this fantasy world there is  a limited number of souls. They get to be reincarnate and have kids from the same group (in one life you could be my parent, the next one you could be my child). The friendship is the most valuable thing you have, the only thing that never changes through all these lives.
Also,  a new soul taking someone's place is a threat for everyone.
What if someone else will vanish as well, what if this is not a singular case. Is this newsoul going to reincarnate, or will people vanish forever at some point. People feared Ana, people hated her for taking away a friend, even if it wasn't her fault.
– Sam
When Ana finally leaves home (it takes her a bit more to do that than the others because she knows almost nothing about the dangers that await for her) she faces some of the mythical creatures I told you about. It's Sam who's saving her life and tries to keep her safe (and warm *giggles*), and even after knowing who she really is, he still protects her against the entire world.
"After I worked so hard saving you, I'd appreciate
if you didn't try to kill yourself again"
Sam becomes Ana's teacher and protector and their story is one that will stay with me for a while.
I like them as a couple, I liked how they got from complete strangers to friends and then lovers. It was a slow and sweet transition that made me like them both. I liked their conversations and how Sam made her understand that she has a soul and she hasthe right to love and be happy. I loved how music brought them closer, how they were both passionate about the things they did, how they were better as a couple.
There are some other secondary characters too, but I can't say if I liked them or not. Mostly because I didn't know them enough, and at times I didn't trust them. My focus was always on Sam and Ana, and their lovely romance. They were a strange but wonderful mix like the world they were living in – she was a newsoul, he was an old-soul; she was impulsive, he was more calculated, they complete each other perfectly.
"It's difficult to focus on my sudies when my best friend is struggling to get through the hour".
He hesitated. "So I'm your best friend now?"
My cheeks heated, and I shrugged. "It was between you and Sarit, and you have music. She just has honey." 
Now I can't wait to see what comes next, I want to see how Ana will change through the story. Also I have some questions that have't been answered in this installment, I want to know more about this world, and I want more Sam-and-Ana moments.
Music of choice:
The Moment – Yiruma

Book Source: ARC from the publisher via NetGalley. (thank you!)