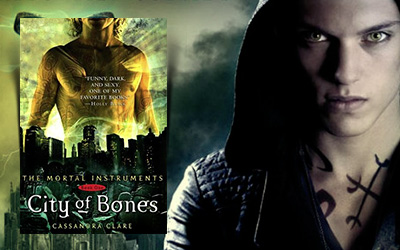 Ok.. so, even though it says that I read it in like 4 months (that was the first time I put my hand on it anyways), in fact it took me less than 2 days to finish it because, after I got into it the way I wanted, I just couldn't put it down.
With the good and the bad, I really liked this one (an interesting story, with a lot of action, some likable characters, some not that much, i hated some parts, but I loved some other.. and oh, did I mention Jace? No?! Well he is kind of the main reason I wanted to read this book, even though near the ending I had second thoughts – but for just a moment)…what can I say, this is my new guilty pleasure.
I won't say that it's great, I won't say that it's fabulous, i will just admit that this time I was in the right mood and I had a great/fabulous time while reading it. 😀
Movie – first look
They gotta be kidding me! o_O
I just can't get past the first picture on IMDB:
Is this their definition of confidence and beauty.. and charisma, good looks and charm?!
I think I might have the wrong dictionary, because you see, I just don't get it. Nope.. I really hope he is a good actor because I can't picture him as Jake, not one single bit, not at all. *sigh*
Movie Update:
I had a change of heart after seing the trailers:
Fuck good looks, I need an actor to act not to pose for me! (hopefull this guy will be all that) … And I think this might be the first ecranisation that I will actually love.
PS: Well, the movie was kind of 'meh', but they probably did the best they could do.