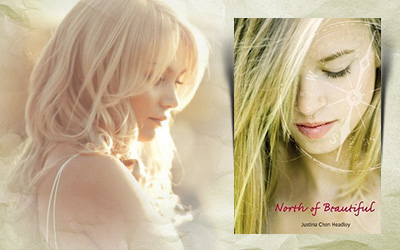 "Beauty–real everlasting beauty–lives not on our faces, but in our attitude and our actions. It lives in what we do for ourselves and for others."
I am glad that I read this book after reading Stay.
If "Stay" is a book that deals with a young relationship between a teenager and her obsessive-possessive boyfriend, "North of beautiful" deals with another type of psychical abuse in a relationship between two adults.
In a way, it's like the before and the after of an unhealthy relationship.
Both books show you how words can hurt, how someone can make you think that you don't deserve anything better than what you get, how someone can make you forget who you really are and what you really want..
And also they show you the opposite, that you can find yourself, that you deserve better, that you have to find your way and break free.
As in the previous book, i liked the way the author described the 'abuser' and the family relationships (and 'liked' is such a relative word, because I wanted so badly to punch Terra's father all through the book, and her brothers too, but also it felt so realistic that it hurt).
The relationship between Terra and Jacob was other thing that I liked.
He was the right kind of guy for a girl like her (full of insecurities, of fears). He saw the beauty in her and he showed it to her.
He made her realize that life is more than good looks and makeup, and also being with him showed her what a healthy relationship could be like – so different from her parents, even so different from her relationship with Erik, a guy she didn't love, but she just felt she wouldn't be able to find someone better, because she felt so little of her (and I am not saying that Erik was a bad guy because he wasn't, and in the end I liked him a lot, but he was not the right guy for her).
The ending took me by surprise. I wanted at least one more chapter to see how things were settling down, and I had so many questions unanswered about her father and her mother, and her brother(s), and college, and also Terra and Jacob, but with or without my perfect ending, this book is still amazing.. I loved it!