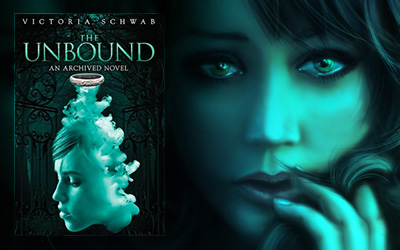 Surreal, that's how this story is.
Question time: when dreams and nightmares and life align together, how do you break free, how do you tell real from unreal? How do you find the force to move on when you are breaking apart?
PROs:
Victoria Schwab writes exquisitely, there's such a vivid world created, so complex and dark and full of mystery and anguish. The mental breakdown of the main character was beautifully described and (at least in my case) it's a wonderful feeling to have to question the sanity of the characters I read about. It brings so much depth into the story.
I do like Mackenzie very much.
There's so much emotion inside her, if in the first book it was all about the past breaking her walls, in this one it is all about the cracks inside herself, the mystery surrounding her, her mind feeling like playing tricks and herself feeling like slowly losing her mind. It's all circular and beautiful and though there is a tiny dose of predictability, don't worry, because there are plenty of turnarounds to make your mind spin one way, then the other.
You know what I loved?
That there were enough coincidences in the disappearance of those people – like we should feel appalled, but not really. It made me question the finality of it all.
And, you know that I complain all the time about bad parenting?
Fear no more because the true frustrations of good parenting are going to hit hard in this story. They really seemed to have found the very 'perfect' moments to act like true parents (there's quite some amount of irony in this statement, quotes or no quotes). If in the first book they didn't give a damn about Mac's deals, in THE UNBOUND they took their role pretty serious.. But it is not a bad thing, just funny, because I did enjoy her frustration through it all.
And talking about Mac, she kept consistent through the story – though some things didn't turn the way she wanted in the previous book, she still held close her memories of her brother and there were some lessons that she did learn first-hand and didn't feel the need for lesson number two. And I loved to see her interact with other people her age, from 'real' world. I can actually say the same about Wesley, as we got to see a very different side of him too.
Truth being told I felt a bit bad for Wesley, because he needed Mac to let him be there for her, and Mac just shut the door in his face – multiple times, in a row. But it was good for her too – she's lost just too much and she needed to know that she could hold on no matter what, that she won't break even more, or (even if she did) she needed to know that it would be well worth it. I still wished for more Mac & Wes time together, but this is no love story, so I am grateful for the bits I got, which were lovely.
I intended to give this book 5 stars even for the psychological side of it alone, but then I came to think about it more, and I remembered that there were some problems too…
CONs:
The ending played out too conveniently – there was too much pure luck in it and false hope that could have turned against our girl so easily. She risked way too much and I think that the Archive was too forgiving, or seemed to be – we won't know for sure unless a 3rd book gets released.
I don't like how the author gave the love-triangle vibe to the story (once more), though it felt less obvious than in the first book – but if she ever writes the 3rd one I just hope she won't play this card again.. at all. And I am not complaining about THE ARCHIVED really, because in there the trio played a major role, it was needed for the plot to work, but here it just added a bit of tension where there was enough already.
Also Mac was too reckless – you'd think she would learn her lesson already and she won't keep that many secrets, will finally confide in someone, won't keep lying to Wesley, but do the right things.. right?
Wrong – she lies, she hides, she goes to a crime scene (for crying out lout!) show
. Like, seriously?! I did understand it the first time around, but her Da is damn right about second times.
Conclusions:
Still, this story is amazing, the characters full of depth and I would love to read more about them.
Hopes for book 3
I deeply want to know more about a particular 'him' and his past, his 'brokenness', want to know more about a particular 'her', as she must be really angry at our girl, want to know how the "all" card will be played out.. Oh, please tell me there will be a book 3!!
Dear Victoria,

You know you want to write a new book, you know we all want you to write it…
I bet the characters are screaming from within: "let us out, let us tell the whole story!"

I hope you will..
Soon..
Video of choice:
Because this much enthusiasm is contagious. Victoria is the sweetest.