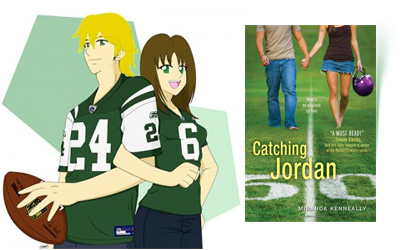 Ha-haa, what a fun way to spend the evening.
This book was amazingly cute, and the characters too adorable for words. From Jordan and Henry, to JJ, Carter, Ty and the girls, and even the family members – they were all so great that I wished for them to be part of my life. They filled my day with their jokes and their joy and for a moment, between laughs, they made me miss my old friends from high school. I could have hugged them all and take them home, that's how much I like them.
"When unrequited love is the most expensive thing on the menu, sometimes you settle for the daily special"
The cover
It's beautiful. In fact it's what caught my attention back in April when I saw it for the first time.
Also there's something about that line between the boy and the girl – maybe it's not supposed to have a meaning, but the book is all about crossing the line – with the guy Jordan liked, with her friends, with her family, her choices and options, and so on.
Jordan

As I found out, Jordan is the girl, and it's funny because before reading the book I was so sure that Jordan was the guy in the story, LOL.
Anyways, I really liked her. She had this optimism like an aura around her words, and even with all her insecurities and her problems she seemed to know where she was standing and she seemed to be enjoying her life.
I liked in a way how Jordan reacted when the guy she liked didn't make a move. She was like: "ok, you don't want me, it is not the end of the world, there are plenty of fish in the sea, I'll find someone else (in fact I have someone else), let's see how you like it". And I was like: "finally a girl with something between her ears that doesn't spend all her time moping around". She didn't just wait for him, crying in a corner (even though the guy of her choice was not the best she could have found, and also there were plenty of tears involved here and there).
As a side note I've also noticed that she seems to like (and want) mostly the things that she doesn't have, but.. don't we all? Maybe this is another thing that made her 'real' (as a character can be). Because we all make mistakes. And sometimes we don't realize what we have until it's too late, but don't we all deserve another chance?
"I didn't know crushing on a guy would require me to up my calorie intake."
Henry
For about 2/3 of the story (more or less) he was the best character ever. The cute one, the funny one, the one that makes you laugh until you choke, the one that you want to give breathless hugs, the one that you want to kiss for being so sweet, the one with a "take me home" sign on his forehead.
I would have given this book 5 stars if Henry wouldn't have started at some point acting like an emo jerk (no offence to emo or jerk people). I wanted to put him and Jordan in a room for 7 minutes (even though they need more than 7) to figure out what was wrong with them.
Anyways, I liked how Henry supported Jordan with everything, even when supporting her was breaking his heart.
He was a good friend.. that is until he wasn't a friend at all. But at the end he was cute again, thanks god!
"I love how when we sleep head-to-toe,
he always finds a reason to sleep head-to-head instead."
Ty
I thought that he was supposed to be the bad guy, playing with Jordan's feelings for his own interests. I waited for him to show his real face and let me tell you that when he finally did I was a bit surprised – but not in the way I've expected it.
I couldn't make myself like him, mostly because he was so damn controlling. Yes, there was a bit of a tragedy there, I understand that, but he was too much of a drama queen for my taste. He is the only character I couldn't really understand as his moods changed all through the story. Maybe he was a bit instable because of what happened in the past, maybe he was just there to fill in the space between Jordan and Henry (to make the story work) and the author didn't pay enough attention to him… Who knows. The fact is that he remained a mystery to me, and not one that I wanted to uncover.
"I'v never been to a dance, and I've certainly never worn a girly evening gown dress thing. […]  It had better drive Ty crazy, because I can't breathe in this damned thing."
Friends:
I guess there's no need to repeat myself, still I'm gonna say again how much I loved all Jordan's friends.. Guys and girls. They were awesome and cute, and they had their own moments to star in the story and I laughed like crazy at their jokes. They were so.. alive, if you get what I mean. The dialogue was realistic and fun, and they made me want to know more about them (e.g. about Carter and his relation with his father, or Ty and his family)
Family
I liked them all, from the parents to Mike (the big brother, a quarterback) and his friend.
Even if I wanted for more the half of the book to punch Jordan's father in the face.. with a baseball bat, he was really nice in the end, and I liked how even when he didn't agree with Jordan's choices (to play football) he never told her not to.
Also, helping Ty and his family was so nice of them.
Jordan: You know what I think about dreams?
Ty: (smiles slightly) What?
Jordan: That if you spend too much time dreaming, you'll stop actually doing.
Sweet moments:
 Henry's victory dance

 the fake baby

 truth or dare

 Ty and Jordan's first kiss

 Henry pretending to be asleep

 my splash is bigger than yours :p
Happy midnight reading!
Book source: ARC from the publisher, via Netgalley. Thank you!
Watch the book trailer: