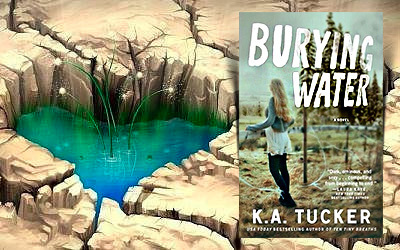 When it comes to the New Adult books the first thing I really appreciate is the originality, the freshness, the aspects I didn't see (well, read about) before. This is one of the things I liked about this story, that it is different than all the other stories in this genre that tend to blend with each other.
"Burying Water" is a love story, but there is a tragic side of it; it is heartbreaking at times, but it also has some very sweet or funny moments that can melt your heart.
I liked both characters, and even though there is a bit of an insta-love vibe going on, for some reason it didn't take away my pleasure of reading this book. I was intrigued by the present side of the story and I couldn't get enough of the past, and every time the POV switched between the main characters I was left hanging, wanting more of the previous. It felt right to be written in this way, it added a bit of suspense and it kept me glued to the pages – and yes, I knew where they ended (where things were headed), but I wanted to know 'how' and most of all I wanted to know what was still to come..
Water is a strong character, in the past she's made some big mistakes (some older than this story even), got herself trapped into very difficult situations that are hard to witness and the present is also very hard to swallow. But she was also very lucky, for finding great people in her life, people that would do anything and everything for her, even though they didn't know her well enough. The chance to have a second life comes as a gift, but time feels like a bomb when you wait for her to remember.
Jesse is one of the most caring characters out there. But he is also impulsive, a bit reckless, still very passionate about the things that interest him. He doesn't know what he is getting himself into and I loved following his story because there was so much mystery hidden in it.
We practically get two love stories in one book, and they are both a bit rushed, but as I said, it was still OK by me. I felt that Water should have been more traumatised after all that she's been through – even if she didn't remember, her mind should have put so many walls around her, keeping her away from any threatening-of-sorts people (aka show
), but that's just me.
All in one, I really enjoyed "Burying Water". I think that many people will enjoy this story, the format, the writing style. I know that I will read other books from this author (not to mention this whole series) because there is something about her stories that keep me coming back for more.
Happy midnight reading!