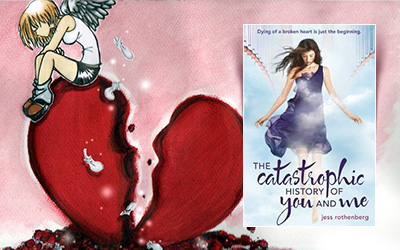 I love books that make me feel more than one emotion.. I love it when my chest feels tight and achey for a moment, and then it gets all sweet and giggly; when I want to cry and smile at the same time; when I feel like I can't get enough from the story and I would like to keep reading about the characters until the end of time.
This goes for this story, this goes for Brie and Patrick, for a heart which continues to beat, even though it has been broken in two.
"The trouble is, sometimes words are like arrows. Once you shoot them, there's no going back."
The story is really heartwarming from the very beginning: Brie's heart breaks (literally and figuratively) and now – in the afterlife – she needs to find a way to let go, to move on to the other side. She finds herself in a 'tasty' version of Heaven – her favorite pizza place where she used to go with her family –  and it is not her Heaven alone. There are more kids like herself in there, but there is only one that gets her full attention, one that might have the power to make her feel 'alive' again (don't be anxious – I'll get to that in just a moment).
What I liked about this story is the fact that it was not as predictable as I thought it would be.
There were some twists that I didn't see coming, and they really got to change the course of things. I will leave to you the pleasure to find all about them, still I will say a few words about some of the characters:
Brie:
It was easy to care for her – lost, alone, wanting her life back, angry with the whole damn universe but having a big heart (oh well, broken but still big and full of emotions)… You can easily relate to her pain and struggle, and even though she is a bit of a brat at times, you get to care for her with every page.
There are these steps a dead person goes through in order to move on, and I could see her change from one stage to the other, and more important I could understand why.
It was hard for her not to be with the people she loved, but it was even harder for her to witness how all their lives have changed after her death.
Somehow everything seemed to go terribly wrong and she would have given everything to make them right again. If at the beginning all she wanted was to find out "why", and it was all about finding the missing pieces from this puzzle called 'life without Brie', at the end she just needed to find out "how" to put back together those broken pieces.
"Turns out, hell's not so much a burning, scalding pit of fire and misery. It's actually much, much worse than that. Hell is when the people you love the most reach right into your soul and rip it out of you. And they do it because they can."
Patrick:
Dressed like someone from the '80s and apparently having nothing better to do than to 'annoy' Brie, Patrick is the one that will help her find her way, the one that will give her advices when she needs one, the one to hold her in his arms when she feels more broken and lonely than ever, he is the one to cheer her up… yeah, you are right, he could be the one. But things are complicated (catastrophic at times), and if they are not, Brie will take care of that.
There are some things I really liked about his relation with Brie:
– the way he tried to help her, even when she didn't want him to;
– the cheese-y nicknames he picked;
– the way he called her Angel, and how much affection he put into that simple word;
Also the fights they had were amazingly cute and they made me laugh on so many times.
He looked kind of, um, hot. You know, for a dead kid.
"Why, thank you," his voice echoed through my mind. "Not so bad yourself."
Brie's friends:
When Brie was alive, she had 3 best friends and a lovely boyfriend. You would think that she has lost them the moment she died, but the truth is that she will lose them all over again in her after-life. There are things that come back to her to haunt her, there are secrets that could have changed everything, and there are things that are not what you think they are.
"You can obsess and obsess over how things ended- what you did wrong or could have done differently- but there's not much of a point. It's not like it'll change anything. So really, why worry?"
I also loved all the musical references because they got straight to my heart.
Maybe it is because these are some of the songs I used to listen to in high-school, so I felt somehow closer to the character this way (take for example "It must have been love".. I so remember singing away my pain the first time my heart broke from too-much-loving and too-little-being-loved). I hope you'll enjoy them all as well.
Now… there were some things that bugged me (that's why the 4stars rating):
– The interaction with the real world show
– Lily's story
show
Anyways, I loved this book and I will definitely read some more from Jess in the future!
Happy midnight reading, everyone!