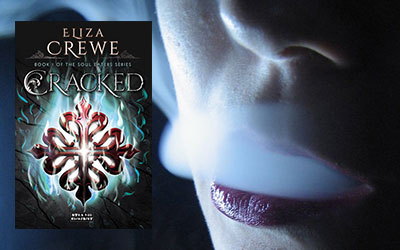 Probably the best new voice in the YA literature. I simply loved this girl's wittiness and the story itself was just as great! Simply fabulous!
About the book
I didn't get the chance to talk about it when I finished reading it and it's a shame, really, because it was such an entertaining story. It kept me laughing and laughing and I couldn't get enough of it. CRACKED is surprisingly different compared to other books in the same genre – not only the voice feels fresh and it resonates with the reader (with al the wittiness and fluid flow of the action), but there's a void of clichés that I deeply enjoyed. No love-triangle or bad girl pinning for the good boy, no weak main character that lacks any sort of spine, everything feels different and surprising – and that, my dears, is such a win!
About the characters
It is fun to read about some sort of an anti-hearo and Meda excels at it. Her wittiness made for a very lovely reading experience, her need to survive made for funny plot turnarounds; she's the bad one in the equation and she knows it – she doesn't hide behind the finger, she just omits some details that may leave her without a head on her shoulders.
The young crusaders – Jo, Chi and Uri are also great characters. They are young, they are silly though cute, but they have such big hearts and they honestly want to help Meda.
Meda's story is funny at times, but also heartbreaking and I was glad that she had her friends to help her to all of it, because being a soul-eater can be hard at it is, but being one inside a crusader group is suicide. Still, that's the only way for her to find out more about her kind (particularly also the one that seems to want her dead), a need she feels so deeply it eats her alive. She's been told she was special, that she was the only one, but now she discovers there's a whole world she didn't know about and she needs to reveal all the secrets she can, before they find out who and what she really is.
Conclusions
As I said before, the action is really great, the turnarounds are refreshing and mostly surprising (though you might think of some of them). I really loved this book and I deeply recommend it to fans of urban fantasy (even if you don't like the genre, this book might convince you otherwise).
Eliza Crewe is a great author, I really hope to read more books in the future (including the next 2 in this series). This is her debut series and there's so much talent in here, seriously one of the best YA voices out there!
Happy midnight reading!
Top image source