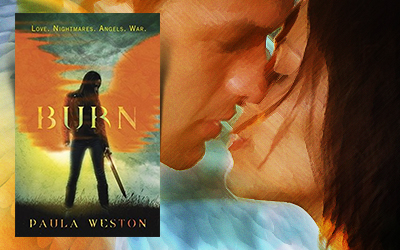 Love. Nightmares. Angels. War.
This book has left me (like all the books in the series) with a fluttering feeling deep in my heart, like the touch of an angel's wings – such a perfect ending to an even more perfect story!
I just fell in love. For the fourth time. With this series. With these characters. I can't read anything else, all I want is to stay lost in this story for just a little bit more. As it seems, all my reading can never prepare me from the feeling I get when I reach the last page in a series, when I read the very last words.. It rips through me, it makes me ache like nothing else ever can, because all these characters become part of who I am, but now.. who am I without them all?
Who am I without Gaby – so tough, so strong, but also so sensitive and passionate and loyal. I loved her new life, her new self, but never really questioned old Gabe and they way she thought or felt. They were two different, opposite sides of the same person and I even liked her better after finding everything about her (though I didn't feel that she was as bad and bitchy as the others made us believe through the story).
Then.. who am I without Rafa to make my heart beat twice as fast? To lighten the mood, to make us all fall for him, to care for Gaby even when he didn't trust her entirely, to look for his friends even when he thought they were long dead.
It's not that their back-story was actually surprising, I did see it coming, but I still enjoyed it deeply. There was as much passion as I anticipated, and just as much all-consuming anger, fury even. They were so great together, as for them being apart.. well, you already know that saying: "when I'm good I am really really good, but when I'm bad I'm better". And, damn, their relationship went from great to awful in a heartbeat!
And.. who am I without Jude – I didn't even 'know' him for half of the story, still he was just as present, just as important as the other two. I loved the fake memories, they filled all those years of being apart, they were what should have been between them at all times. Their relationship was always so strong, and even when when they belonged to two different groups they lingered in each other's thoughts.
I always preferred the Outcasts better, from the fist book to the last one. It's because they were somehow 'warmer', much more inclined to forgive, it's because their ties were stronger even when faced with betrayal. But I loved the dynamics between the two groups – same goes for the humans (it was a delight to see them work out their differences and fight together) and a fourth group that I won't talk about, though I was very interested in, I am sure you are too.
You know I don't spend time talking about the action in my reviews. But rest assured that I got everything I wanted from it and then some more (though another chapter with our favourite couple wouldn't have hurt at all), the writing in BURN was just as great as before, the structure switching form present to the past worked wonders and I loved the fact that I wasn't left hanging until the ending to know what went wrong between Rafa and Gabe to create that gap between them, as well as what happened with Gabe and Jude the day they disappeared.
There were a few surprises here and there, some things I didn't see coming, some key moments that took my breath away (for better or worse), there were characters I liked better after reading this story, for some I have more compassion for now, there are a few couples that make me giddy… You know the drill, Paula gives us everything we want and this is what makes this series so damn great!
Conclusion…
Guys, I really can't put into words my love for this story. I love it to the moon and back, through every possible dimension, it is beautiful and addictive and action-packed, and romantic, and fun.. It has everything anyone could want, and I am so sad it is over. I'm gonna go cry a bit, and them get back to the first book and start reading all over again.
Thank you Paula, for writing such an amazing story!
Music of choice: