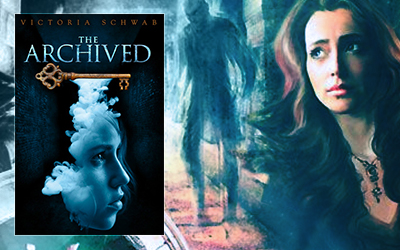 Wow, it will probably haunt me even in my dreams.
I finished reading it and all I could think of was: how amazingly-beautiful the writing was, how imaginative the world, how full of emotion the main character.. Absolutely wonderful! Incredibly touching!
"The Archived" tells a story of terrible loss – not necessary by the nature of it, but by the echoes that resonate in every cell of the characters.
I loved Mac's ties with her grandfather, how he taught her everything that she knew, how he made a better person out of her. I loved how she tried to hold so tight to the memories of her younger brother, how deep her wounds were and how hard to heal. I loved how each member in the family had their own way to deal with their pain – it saddened me to see them all alone in their own solitary worlds of regrets, but that's what we people do, we are together in happiness but all alone in our despair.
The world building is amazing!
A library for the souls, for the memories? Just how cool is that alone?!
The 3 layers of worlds, the doors to somewhere else, the magic keys and magic papers and the adventures in the claustrophobic corridors… Mind-blowing! I would tell you about how alone Mac felt in this world, but I would make the story seem sadder than it actually is. Because there is plenty of action and excitement and I don't want it to seem overshadowed by the emotional side – though that was exactly the thing I loved the most.
I read various reviews and people said that the beginning was slow, but for me it was filled with emotion, it built a character that I was able to connect with, because Mac's emotions were flooding my mind and soul so easily afterwards. I loved to find more about her grandfather, about how she got to be a Keeper, about her brother and how much he meant to her. And then I loved to see her meet Wesley, and their banter made me smile so much. I understood the quiet she felt coming from the Histories, how she wanted to drown in that sea of calm, I liked the claustrophobic feeling the Narrows gave me, I loved the mystery though I figured out half of it quite early and the other half it has already been spoiled in a review I read. *sigh* Damn you book reviewers and the major spoilers you post without notice!
Anyways, I wanted to hug this book, this is how attached to it I was. It gives a melancholic vibe, so I wanted to cheer it up, to smile at it and for it to smile back at me. Yeah, I know, I am crazy like that ;))
The plot spun my world the other way around!
This story was nothing like I thought it would be.
There is a lot of character development – which I did enjoy very, very much. Then there is tension and action and mystery – which was a delight; then there is the emotional side of it, through the memories and the well played turnaround. And yes, there was a bit of romance too, but not as much as I wished for, or too much to overshadow everything else.
Back to the point, the story flows easily, it draws you in, gets hold of you and never lets go. It is addictive, there's action and then the quiet before storm and then, before you even now it, you are thrown into the middle of it all, hoping to find a way out and quickly.
The writing is absolutely beautiful!
I loved the switch between past and present with the right memories, at the right time. The writing was lyrical, and addictive… I could get lost in Victoria's words. SO much love, I am truly at a loss for words! Go read this now!
Happy midnight reading!

PS: The book reminds me of:
"Across the universe" (people put to sleep), "Nevermore" (the dark other world), "Daughter of smoke and bone" (the doors to somewhere else), a bit of the world in "Wander Dust" with the secrets, the high ranks and the mystery. All great books, I tell you, and this one can not disappoint, as it is absolutely amazing!