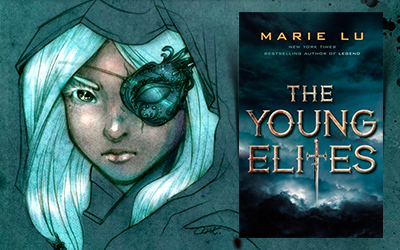 Almost there!
This could have been so easily a 5 stars read for me. It is indeed a very beautiful story. The writing is as amazing as Marie Lu can write, the world is strongly built, the vivid images created by the powers of the Elites are marvellous, the characters are unique and fleshed-out at the border of becoming real, and Adelina is such a great lead with her emotional past and her trust issues (as it makes for an unpredictable storyline). Maybe the next time around I will even enjoy it better.
But.. Too much marketing can also do bad things to a story.
Let's make things clear:
This is not the story of a villain – in the least.
This is the story of Adelina, a very troubled girl that has been wronged all her life and has gathered too much hate and pain in her heart. And maybe this makes me evil too, for being compassionate and following her reasoning paths so easily, but I simply didn't think that she was one. She didn't have it in her, she didn't actually take that much pleasure into hurting the others, as she felt remorseful afterwards in most of those cases.
"Be true to yourself. But that's something everyone says and no one means. No one wants you to be yourself. They want you to be the version of yourself that they like."
So, they wanted to sell me "the bad guy" in the form of her, but I only thought that Adelina was a hurt (very broken, but mostly good) person, in terrible need of mending. Nothing more. No actual 'evilness'.
I even felt that the author tried way too hard to make me think that she was evil, with all those people sensing 'it' in her heart. Though I was in her mind at all times and I didn't feel that way.
Because, all she did was one (stupid, but understandable) mistake that turned out terribly wrong, and maybe she did a little bit of threatening when she felt cornered (because that's what hurtful people do when all the begging doesn't seem to work), and maybe she will indeed turn bad in the next book, who knows, but in this particular book she was just a lamb pretending to be the 'little white wolf'.
As impressed as I was by some parts of the story (take all the turnarounds for example, as they were breathtaking), I still felt deeply detached from it all. The story is indeed emotional and beautiful and there is plenty of action, but my high hopes only made me hungry for more, it made me look constantly for more, and so in the end I didn't feel impressed by it.
Which is a shame, because I repeat, this story is absolutely beautiful.
How is it even possible for someone to see the worth of a story, but not be able to actually feel it?
Also.. There is a great pack of characters.
On one side we find the Elites, a group of Malfettos with incredible abilities (also known as the Dagger Society). On the other side we have the leader of the Inquisition (Teren) who hunts down the malfettos, even though show
. Each and every one of them is unique, not only in terms of hidden powers, but their voices are distinct and their personalities vibrant.
Take Enzo for example, whom is a great leader – strong, passionate, devoted to their mission. He knows he can't save everyone, but he does take great risks to save the ones that can help saving all the rest. He is the rightful prince and he would do anything to gain back his powers and change the way all the Malfettos are treated right now.. And Teren, a bit crazy and obsessive in a fanatical sort of way, and such a huge hypocrite if you ask me, but remarkable nonetheless. Both are ambitious, their powers give them arrogance and they both need Adelina on their side. They both try to bribe her into helping them (nicely or by blackmail), both their intentions are not quite out there, in the open, for her to judge. She can't fully trust either of them.
Raffaele to pieces, he was by far my favourite character in the story – he trains Adelina and, though he is scared of what she might become, he hopes that she won't follow a dark path, but will return into the light. His story is emotional, he has his own scars left by the way people treated the Malfettos, and I cared for him and his safety, as his powers provided him little protection.
All of them (and then some more) were absolutely great and I can't wait to find more about them in the next story.
"I hereby pledge to serve the Dagger Society, to strike fear into the hearts of those who rule Kenettra, to take by death what belong to us, and to make the power of our Elites known to every man, woman, and child. Should I break my vow, let the dagger take from me what I took from the dagger."
Also, Marie Lu took her time to build the relationships between all these characters and I truly appreciated that aspect. We can actually 'see' Adelina interacting with the monster that her father was, with her sister Violetta (and there was so much hate, and suffering, and envy, and so much pain in these two distinct relationships), with Enzo, the rest of the Elites, Teren and then between some of the others. None of them were entirely good or entirely bad.
On the bad side, they all had reasons behind their acts and their own private agendas (some stronger than the others) and though there was beauty in this confusion, it also created a big space between myself (as a reader) and all those characters. I didn't actually connect with any of them.
There was a bit of romance, which was bittersweet and a bit confusing, but lovely nonetheless. There is no love-triangle which felt refreshing and I was more than grateful for things being this way.
The world is amazing in a creepy kind of way. There were enough details for me to vividly paint it in my head, for me to want to dive into it and find more about it.
The cliffhanger leaves me eager for more just as much, so I can't wait to see where this story will go. There is a bit of hope even for the hopeless, though knowing Marie Lu I don't think that she would take the easy way out. There is a new powerful character that comes into view and I can't wait to see how her actions will influence what is to come.
The problem was that sometimes I got a bit bored, or I felt the need to skip over some of that 'running pointlessly into cycles and hiding things from the Elites' that Adelina was doing at all times. I wanted to shake her badly, because I knew that she was afraid, but I didn't like when her fear was pushing her to make stupid, rash decisions.
CONCLUSION:
As you can see the story is mostly amazing.
I actually don't have anything that bad to say about it, I just wasn't really into it either. I am not sure why – I blame it on the hype, in it building an untruthful image of this high fantasy.
It happened with Legend – for me to like the story even better the second time around (though I did love that story from the beginning anyways), so I still hope to enjoy The Young Elites a lot more one day, but after turning the last page all I was left with was a bitter taste – something was missing, though I couldn't put my finger on it.
(right now, not so) Dear Penguin marketing team,

I actually hate you a bit right now for putting my hopes on such a high pedestal only to have them all crashing down on me. And I am having some very dark thoughts regarding you, I think I might turn into a very evil villain (pun intended) and that's because of you. You've been warned!

From the darkest corner of my heart,
Ari
Music of Choice:
No, this is no love story, and I didn't perceive it as one.
It's just that even before reading the book the video made me think of the book, so I decided to keep it here.
"I hear you're asking all around
If I am anywhere to be found,
But I have grown too strong."