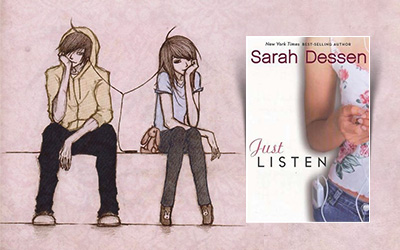 This book kept me thinking…
How many times did you answer to the question "how are you" with just "fine", or "I'm ok"?
How many times did you feel like your heart was breaking but you couldn't make it right?
How many of your dark, inside secrets have made your heart break a little bit more every day?
How many times did you need help but you didn't know how to ask for it?
How many people tried to be part of your life, but you kept them in dark?
How many times when someone got too close to you, did you push that person away?
How many times did you have so much to tell, but didn't find the words?
How many times silence got so loud that you couldn't bear to listen to it any longer?

Someone said that the mp3 players were made for the people that can't handle their own thoughts… So tell me, how many times did you get yourself lost in music, not wanting to hear the rhythm of your own heartbeat?

… Too many times to count.
"The best way out is always through."
There are secrets that we keep safe in our heart, there are things that could hurt the people we love if we let them out, there are friendships lost between the layers of time, and there are people that get to know us better than anyone because they know how to look into our heart..
For all these, there is this book – about broken hearts, and lost dreams, about loneliness, and silent cries, about being too late and second chances, about love in every form we can find it.
And for all those people we need to do one thing: just listen.
In this story we meet Annabel – a girl that has lost her old friends, her old life and eventually, herself.
She doesn't know what to do with her life, she doesn't know how to be part of her family that seems to be falling apart, she doesn't know how to say "I'm sorry", she doesn't know how to say what's wrong with her, and she doesn't know what to do with all the bad things that happened to her and she didn't say a word to no one.
When one boy from school, Owen, starts hanging with her and challenging her to put into words her real feelings as they are, the chaos that her life has become seems to get bigger, and the only way for her to make things right is to start being honest with the people around her (her mother, her friends, even Owen), and more than that, to be honest with herself.
"Plus there's the fact that music is a total constant. That's why we have such a strong visceral connection to it, you know? Because a song can take you back instantly to a moment, or a place, or even a person. No matter what else has changed in you or the world, that one song stays the same, just like that moment."

You would think that telling the truth is as easy as breathing, but is it? Who decides if a lie is big or small; if a lie can make us happy or sad? And if we say the truth, will it make a difference? And how do you know, whom you can trust with your secrets? And how do you know if they will believe the truth or they will think that it's another lie?
How do you say what you want, when you don't even know it, and how will you face the truth when you're trying to run away from it?
Yes, we live in a world full of lies – some of them are meant to make us feel better, some are meant to make us cry; some of us can make the difference between a dark secret and a light lie, but most of us are starting to forget what being honest really is: not to say all that you think, but to think all that you say!
So, the next time your heart is telling you its truth.. just listen!
Yeah. Don't think, or judge. Just Listen.
Happy midnight reading!

 Note: The Romanian version of the review can be found here.