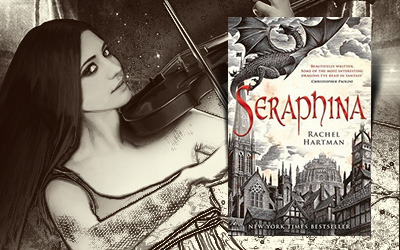 In all the stories I've read or heard about, I don't remember ever reading about dragons and humans living together. So, to say that I was intrigued about this book it's quite an understandment.
The good:
The world setling in Seraphina is wonderful, rich and captivating. The reader is able to understand everything step by step, to see the world through the eyes of young Seraphina, to meet the characters one by one and connect with them at very different levels. Seraphina's memories bequeathed to her by her mother give some insights into the dragon world, and I am grateful for that because there were things we wouldn't have been able to know otherwise.
Also, I must confess that I am in love with once-upon-a-time mysteries involving royal familie.
I love stories that seem to be buried in time, stories with a different language in a different world, I love to hunt for clues to think who might be the traidor… and what's usually best in these kind of stories is the friendship – because when everything depends on you, you need to find around you some people you can count on to be able to survive and uncover all the hidden mysteries.
Talking about mysteries, every time the main character gets involved in the middle of a conspiracy bigger than the world I almost see my back for rolling my eyes so hard. This time though the plot was so well done that it felt fully believable..
We don't have the characters trust one another after 3 pages, in fact it takes a lot for them to manage to be walk the same path as secrets are scatered all over the place and Phina's lies are not helping either.
The same goes for the love story – we see how her feelings change, but there is too much into play for those feelings to emerge.
Prince Lucian Kiggs is the captain of the Queen's Guard and the fiancee to Princess of the land (Glisselda). As if this wasn't complicated enough, every time he gets to trust her another secret is revealed shattering those tiny bits of trust.
This being said, if you are looking for a "love story" this might not be the book for you.
Seraphina is more about discovering yourself, accepting your flaws, being truthful to yourself and the others.. Yes, truth is really important in this story and Seraphima has a lot to hide about herself and the people she cares about. It might help to know that there is plenty of action that might keep you reading all night long and it can easily compensate for the lack of romance.
And there is one more thing I should talk about: the dragons and the garden creatures.
The history of the dragons was intriguing and made me want to turn pages like crazy to find out more. As for the garden creatures, I won't spoil anything for you, but this is the part that I loved the most. The dream world was so original and beautiful and the way it entwined with reality made me love this story even more – this is a tiny part of the unconditional friendship I liked so much. *hint, hint*
The not so good:
There was nothing wrong with this book. Really!
It is wonderful from the beginning to the ending. The half star missing only shows that I needed something more in terms of romance, but many of you won't be bothered by this on the least, so if you like once-upon-a-time fantasies this book might be right for you.
Conclusion:
I won't repeat what I said above, you can double read the last phrase if you wish, what I will do now is give you a list of other books that I found to be somehow similar to this one, because I loved them all and I hope that you will as well: The Lumatere Chronicles ( #1 Finnikin of the Rock, #2 Froi of the Exiles and  #3 Quintana of Charyn); Poison Study; Brightly Woven; Grave Mercy; Graceling (which I didn't get to review but you might like as well).
Happy midnight reading!
Book Source: Advanced copy received from the publisher. Thank you!
Watch the book trailer: