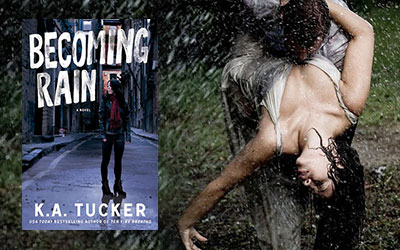 This is the second book in the series, and even though it was really entertaining and I liked the characters and their voices, you should probably take it with a grain of salt.. If Burying Water had the insta-love element that I didn't appreciate that much (though I was into the story itself), in BECOMING RAIN the fact that love played so much of a part in Clara's investigation made me feel a bit off (after all, you just need to throw a good-looking guy into this girls' investigation and her morality is starting to shake, which seems quite a bit petty, if you ask me).
But that doesn't mean that the flow of the story isn't great, just that I wanted things to play out different when it came to this aspect.
This being said, the book itself is addictive, we see a different side of Luke (you might remember him from Burying Water) and he is not as shallow as he seemed in the first book. He is not entirely good (or maybe a better word would be innocent), but he is not a bad guy either. He wants the money, he is still overly ambitious, but doesn't really want people to get hurt in order to get them. He is also a good friend, he wants to help Jesse and he is still tormented by the regrets of not doing something sooner for Alex.
The romance is cute and as far as the NA genre goes for me, this one is a winner – hot and cold, it felt like a summer rain.
I liked that it was not all that easy for Clara to get close to Luke and their love story was slow, with the right pacing, and sweet. I liked that they both got to see in each other things that no one else ever did, it was fun to witness their games and I liked how things turned out to be for them, even though it was a bit of a stretch at some point in the investigation.
I also enjoyed the short appearance of some old characters.
All in one, I do recommend the series, I like the style of the author and I can't wait to find more about some other characters.
I originally gave it 3.5 stars, but I thought better of it because I had such a great time reading it!