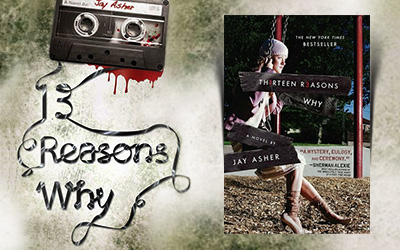 "No one knows for certain how much impact they have on the lives of other people.Oftentimes, we have no clue. Yet we push it just the same."
I don't know much about suicide, but I guess that a person in that state of mind doesn't need a really strong reason to take away his/her life.
I believe that the tiniest of the possible reasons you might think about it's just enough for them, after all it all adds up to the suffering and it is not the last experience that counts, but all of them together. It can be one look, one word, one disappointment, or it can be something major..
But how in the world do you measure someone's suffering?
When is it "big enough"?
When is it not?
How can you tell what might be a "good reason" to take away your life?
This being said, I felt the same way as many of you.. I felt that Hannah didn't have such a bad experience, that some people go through more difficult things in life and they keep going, trying to survive… but in the end it's not about the experience itself, but about the way Hannah felt, about the "snowball effect"… and at some point she just couldn't take it anymore.
I also think that this book is not about the reasons one might have to take away his/her life, it is not really about Hannah, or the people that think about suicide, but it's about all the other people.. it's about you and me, it's about that someone that could make a person realize that life it's worth living. It's about seeing someone struggling and trying to help. It shows you the "signs" and it screams for you to do something, to save someone.
What did Clay do?
What did Mr. Porter do?
What would you do to help Hannah?
There are 3 reasons why I didn't give this book 5 stars:
1. Clay – I couldn't feel his pain as much as I wanted, I didn't feel that he was as attached to Hannah as the author wanted to me to think. At the beginning his lines were too short and they lack of any kind of emotion… the discovering should have been heartbreaking, but I couldn't feel that.
2. The switching between Hannah and Clay – even though I always knew who was "talking", sometimes I just lost track of thoughts. Hannah said one thing, but Clay thought about something totally different making me forget what she was just saying… and I felt like he was some kind of noise keeping me from listening to Hannah side of story. Yes, sometimes this approach worked wonderfully and I loved having two points of view at once, but sometimes I was annoyed as hell.
3. And this is a spoiler, so stop reading if you didn't finish the book (view spoiler) – I wanted Hannah to tell Clay that she hated him too. That he was another reason in this mess too. That he could have helped her and he didn't try enough. That he was a coward. That he was just like the others believing all those rumors. Because I am sure that she thought about this, Clay did too.
I get that the author wanted us to believe that Clay was the good guy (and yes, he learned his lesson and in the last page you can really see that happening), but if she didn't think that, then she was just being cruel sending him these tapes.
Then she just did to him the same thing she hated about the other people on that list: she hurt him without having a chance to make it right, she shattered his world with an unnecessary pain, she didn't give him a chance to explain himself, to tell her that she was wrong.. so in the end she was just like them, she was no better – and she lost everything for nothing.
Anyways this was a great book and I am glad I read it. The way all the stories are related was nicely done, and the writing is good. It's a powerful and emotional book, and maybe it will make people think about all those messages hidden between the lines.
Some more side notes:
(view spoiler) I don't think that someone who wants to commit suicide would think this much about it, planning how to get back to the others, recording all those tapes – it didn't seem that Hannah was just awfully depressed (for the lack of a better word), but that she had bigger problems than that.
One thing that really bothered me is the rape scene. It is not the first book when this kind of thing happens and someone just stays there watching/hearing, without doing something about it. And it is wrong! But I guess that it proves how messed-up Hannah was at that point.
… But because this was a great book I'll just pretend I didn't notice .
Also..
I liked that the "tape keeper" was picked almost randomly by Hannah, in my mind it makes sense in this "suicidal context".
And I liked the discussion between Hanna and her teacher at the end. I saw the way he couldn't handle the situation and I know that this happens in real life.. if only it would make the counselors take their job more seriously and be there for the people that need their help.
"You don't know what goes on in anyone's life but your own. And when you mess with one part of a person's life, you're not messing with just that part. Unfortunately, you can't be that precise and selective. When you mess with one part of a person's life, you're messing with their entire life. Everything. . . affects everything."
 Note: The Romanian version of the review can be found here.
Extras:
On ThirteenReasonsWhy website you can find many amazing extras including a map, Hannah's reasons, the tapes and more. Enjoy them!
Music of choice: