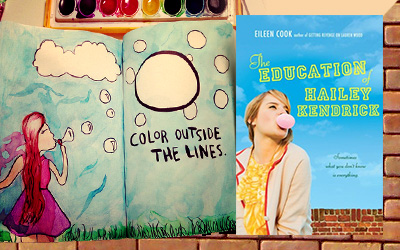 ★★★★★ Funny, funny, funny, love it, love it, love it…
So, I must confess that the story itself is not memorable (but it is as sweet as honey.. I mean not that sweet, I don't like honey.. maybe as sweet as ice cream or chocolate. Oh, I love M&M's, so I would say as sweet as those but it is so much fun to read), and it is true that some characters are quite 'not nice' (and also I have to tell you that I hate her best friend and I don't care that the author wanted us to believe that she wasn't mean .. I still don't like her..
"Tell me the truth. When you were a kid, did you always color inside the lines?"
"Coloring in the lines is the whole point. That's why they have lines," I said.
"That's where you're wrong. The lines are there just to hold you in. Like a prison.
Think what you might have created if there hadn't been any lines."
But…
If you ignore these 2 minor things you will find out that:
– the book is wonderfully written and
– there are tons of beautiful quotes I've marked on my book that now it looks like a rainbow,
..So instead of only 4 stars I give it 5.
And one more thing… I love Drew (yeah, present tense). And I loved the moments with Hailey and Drew, they were perfect for each other, and I can't put into words how funny these two were together – I just couldn't stop laughing.
I'll definitely read some more from this author 😀