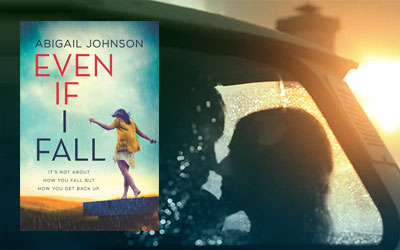 A story about broken pieces with sharp edges.
A story about the aftermath of tragedy, about a family that will never be the same, about people who suffer in silence when there's so much more to say. It gives me shivers to think of that night, as it didn't feel like only one life ending.
We follow Brooke not only trying to get by in a place where no one wants her or her family, but also visiting Jason while trying to both put her family back together and understand how her dear big brother could do the terrible thing he did.
The book feels a bit like a trial, with the still resonating wave of shock, with the denial, with the proofs and the revealing. And it's shattering.
Then there is the Heath aspect of this story.
Two strangers bound by the same tragedy, one that changed both their lives deeply. A simple gesture of kindness (though a bit strange when it comes to the part involving the car repairs) brings them together in order to heal what is left of their broken hearts. It's forbidden, so it shames them and it shapes them and the reader can only hope for things to end well when everything comes crashing and burning all around them.
Still, I wanted to resonate more with these two characters.
To feel more drawn towards them, to feel their connection better. Compared to other couples written by Abigail Johnson, Brooke and Heath seemed to lack chemistry. I missed the sparks, tough I enjoyed the people they became when they were together.
I enjoyed the side characters though.
We only got a few glimpses here and there into their lives, but I liked her family and I felt their individual struggle. Each coped in a different way, but it was hard to witness their pain, as they were all together, but still so alone.
Also, when it comes to Maggie – her best and only  friend – I did understand her anger for not being told the truth, I would have felt the same and I wish Brooke has considered more her feelings.
CONCLUSION
The story is engaging, it kept me up late into the night…
There is a bit of mystery regarding how exactly did things happen, there is the dreadful reaction of people around this family, and then there is the forbidden romance that blooms slowly, but I can't say more because I don't want to spoil the full story for you. I read this book with light speed as I've been waiting for it for a while and I couldn't believe my eyes when I held it in my hands.
Note: ARC won in a giveaway. The book will come out in January 2019.