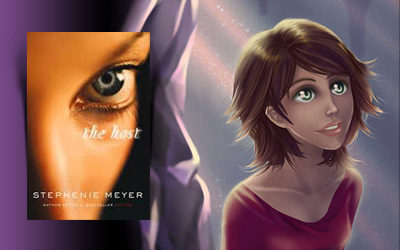 "You never know how much time you'll have."
I give this book 5 stars because is just such an amazing book. I really, really love it!
At first sight it looks like it's a book about aliens, but in reality is a book about human kind, and it's questioning how much humanity remains in us all.
It's a book about survival, about love (so many types of love: loving yourself, loving the planet you live on, loving your family, your friends), about finding yourself… a book about trust, friendship and faith.
It starts kind of slow, but as you get through the story you can see how amazing it can be… so captivating, so entertaining.
The main characters are Melanie and Wanda (the body and the soul) and they take you in a journey not only to find the people they love but to find themselves, to understand the reasons to lose everything for love, the reason to give your life for the people you can't live without.
There is enough action to keep you reading, but the story is deeper than that, it's not about what the characters do but why they do that, it's not about whom they love but why they can't resist the feeling, it's not about what they say but about what they think.
This book is all about emotions, and reading about how the characters feel in every scene makes the story so real, so true… you can feel the pain, the anger, the faith, the love, the hope…
It's a carousel of emotions and that is what makes this book so good, because it's just so close to your heart.
If you are looking for adventure and lots of action and UFOs this is not a book for you, but if you are looking for an emotional, tear-dropping story this might be the one.
Image featuring Saoirse Ronan.
"It's not the face, but the expressions on it.
It's not the voice, but what you say.
It's not how you look in that body, but the thing you do with it.
You are beautiful." ~ Ian
The Host – book and movie
Later Edit:
– Read my latest review for The Host here – but be careful, it contains major spoilers.
– Read my thoughts about the movie here (you can also see there the latest trailer that I love to pieces).
Check this article to see the actors to play in the movie. You can also see some set pictures and watch a video from behind the scenes. Have fun!
Me as a soul: