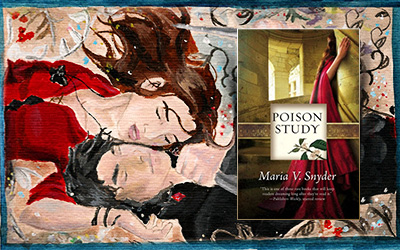 I picked up this book last night.
It was late and I couldn't sleep.
I didn't intend to read it all, but just a bit, just a chapter or two, to clear my mind.
Oh, what a terrible mistake 😀
What I didn't know is that you can't read just a bit of it. This book is like glue – you hold it in your hands and you can't put it down.
There is not much I could say right now about it because I'm literally at a loss for words.. but let me tell you this:
– It's addictive, it's beautiful, it's an amazing story about the best female character I've probably ever read about…
– It's magical, it's sweet, it's full of action…
– It's wonderfully well written, it has a great pack of characters, it's unpredictable, and it will steal your heart…
"This sounds more like a poison than a [book]"
"Exactly. You have poisoned me"
Happy midnight reading!
I would also recommend:
Wonderful, amazing, beautiful, absolutely brilliant… I need more stars! ★★★★★★★★★★ This was such a powerful story that got straight to my heart. After finishing it I was left speechless – Melina Marchetta has this effect on people. The characters are so well defined, the story is so complex… All that I've felt while reading Jellicoe […]
0 comments
Such a beautiful, beautiful darling.. oh, I mean, story :)) One word: lovely! 2 words: loved it! 3 words: Thank you, Arlene! "I don't do well without you," North said. "Who I was before – I never want to be that person again. But I told you when I took you away from here that […]
0 comments