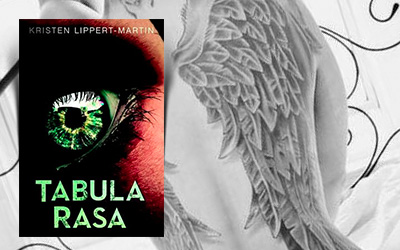 I like stories about memory loss. Stories that feel like a puzzle I have to work on in order to see the final picture. Stories that make me wonder how did things get to be the way they are now, which are the secrets behind all the appearances and what are the characters actually made of.
I won TABULA RASA in a giveaway quite a while ago and I am not sure why didn't I get to read it sooner, but happily I finally did.
It is a beautiful story packed with action, it hides (in pieces) a fuzzy past that the reader needs to unveil page by page, it surrounds some lovely characters that must do anything in their power in order to survive, it offers an escape plan that goes wrong all over again… The only thing that didn't ring that true was the "bad guy", with the final monologue, but that's just a drop in a sea of awesome!
At the beginning, TABULA RASA seemed to be some sort of dystopian story, one filled with mysteries and confusion (and technically it is), but soon for me it felt more like a contemporary thriller with a touch of scientific elements. It was amazing on so many levels and I am also really grateful that it's a standalone (because, at this point, series are overused and overestimated and I love to read a story in one piece and one only). Though I won't love it less if the author decides to give us some more awesomeness in the form of these characters 😀
Because both main characters are phenomenal!
The lead character (Sarah) is a girl you can easily relate with – strong, smart, with an intense personality (even though she doesn't remember all the things that define her) and I loved to watch all her 'parts' coming back together, making her even stronger.
The love interest is just as smart, passionate and skilled. He is the only person that can help Sarah survive and their relationship takes time to develop, but it grows into something really beautiful, based very much on trust.
It was funny to see some people complaining about the "I love you" scene and how soon it happened. No worries, this is not an insta-love (the story is not even focused on the romance that much), but it has the potential to become a love story – well, if only the characters get through everything in one piece show
.
I don't want to say too much about the action, the plot (even though that was the best part for me), because it is better for you to experience first-hand, so I will point out instead to other things that I loved: the prose and the dialogue. Both really great! And I can't wait to read something else from this author!
The situation these 2 characters found themselves in were kind of grim and their chances of survival sometimes pretty low, but they both kept their humour, optimism and the hope for an actual future, for a way to escape, and it felt so great to follow them through the story, to feel like taking part in their adventure.
I pretty much saw everything coming from miles away (or simply thought "oh, wouldn't it be funny if…?" and then it happened) but for some reason I didn't mind it at all, because everything was so well done and the action scenes so compelling, that I simply found myself lost into Sarah's story.
The ending left me with a smile on my lips, for various reasons, and I must confess that there are many things (and even characters) I would like to find out more about, but I truly enjoyed reading TABULA RASA, not to mention that it took me out of this horrible reading slump I was finding myself in.
I do hope that this story will get more attention in the future because it is great!
Happy midnight reading!

Book Source: Copy received in a giveaway from another blogger,
though I am pretty sure I got an eARC too. This means double thanks!