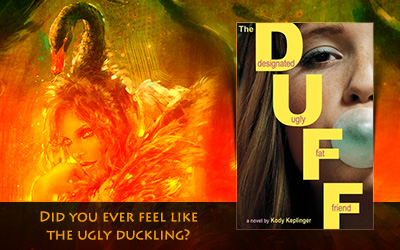 This was such a nice book!
It was a fun read since the very begining. I loved the brief discusion between Bianca and Wesley, it was fun and entertaining. Also I loved the way both characters changed (so slowly) through the story – they started by hating each other (or at least Bianca says she did), then they found out that there is more to them than meets the eyes, and they ended so deeply in love – but the transition seemed as natural as breathing.
Bianca is the average girl with not-so-high self esteem. Wesley is the opposite (good-looking, rich, fun, confident). Put them together in the same room and you will get some 'explosive' situations.
Bianca hates him for being a "man-whore", and it takes only a second for Wesley to touch a sensitive spot (and hurt Bianca by calling her "the duff") and the situation between them gets even worse – now she has a reason to hate him and she shows it (only at the beginning).
Between her confidence being shaken and all her problems at home, Bianca finds herfself doing things she knows she shouldn't be doing, but can't stop herself because this is the only way she can shut-down the world and she can forget about everything that's hurting her.
The thing is that Wesley used the strategy of talking with "the duff" more than once, but he never expected her reactions at all – she is hot a moment and cold the other .. and he doesn't say it but he really likes this about her. Also he never knew the nickname affected her and he keeps calling her Duffy trough the book (I think that for him this was more like their private joke – whenever he cared about her, he called her by her name).
There were some sweet moments they shared together and I enjoyed the way they started to care for each other.
Now, of course, this whole scenario won't work in the real life for a lot of reasons, and also this is not some life-lessons-giving book, but it's just perfect to have a laugh and enjoy it from cover to cover without giving it a second thought.
This is a really sweet and unusual love story.
 "Wesley Rush doesn't chase girls.
They chase him."
"You're right. Wesley Rush doesn't chase girls, and I'm not chasing you"
"Wesley Rush doesn't chase girls, but I'm chasing you."