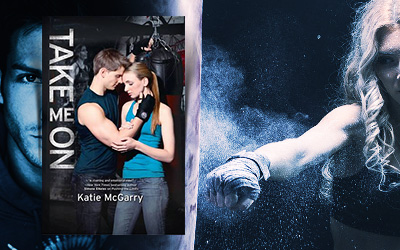 I think I might've outgrown these stories
… Or maybe it's just this family from both 'Crash into You' and 'Take me On' that I can't relate with no matter what. It's all so random and inconsistent with these people. In fact with everybody in this book.
– The thing with the father being involved in the accident and blaming West for some reason.. Well, it was really getting on my nerves (not to mention the "get out – come back"; "I don't like you – you're my son, I love you" craziness; he should just decide already, as a bit of personality wouldn't hurt, really) and I didn't buy the whole reason for West needing to train for that fight with Matt's brother in the first place. The reasons why Haley needed to keep things secret from her family involving West instead didn't make much sense, neither did his need to step up and take her side. I guess that we just didn't start that well.
– The insta-love was not my thing either (too much cheese and not enough wine to go with it) and that Abbie character was actually creepy in a stalking / knowing-it-all kind of way. The dynamics between different family members felt absolutely inconsistent – they said one thing, did the opposite, I could never keep up with their moods. Also, the non-relationship between West and Haley lacked any kind of spark, though they did have a few nice moments here and there; and the reasons they couldn't be together made me roll my eyes multiple times, so there's was not much luck with the middle part either.
– As for the ending, the only believable thing (sort of) about it was the actual fight show
, everything else felt unnecessary or out of this world – I do know this is fiction, but I couldn't make myself believe quite a few things.
Then, there is the character development -which this series is starting to lack more and more- that is really important to me and unfortunately I feel that it is getting to be more about the increasing number of books in the series and less about the quality of the content. I felt like watching a stick figure cartoon – people going from A to B with no motivation or believable reasoning behind it.
The main characters were flat, full of contradictions and I couldn't believe their love story or their struggle, as neither of those felt real. The parents (like in all the other books, by the way) were simply nightmarish – I wanted to throw my book at them, and the same goes for friends, siblings, whatever.
You might ask yourself why did I continue reading if there wasn't much I could have possibly liked – the truth is, I don't know, with all those great ratings I hoped for.. more. And it wasn't actually bad, it just wasn't good either, if you are a big fan of the series you might enjoy it better (though I felt like one for the first 2 books too; not sure when that changed for me, I am not even sure of 'why').
A two-stars rating means 'OK' on GoodReads, so I'll go with it, though I am not sure if I even liked it that much, but I did finish reading it, so there must be more good to it than I am letting you know. *sigh*
Conclusion: There might be many fans out there that will love it, I was just not one of them *double sigh*
Happy midnight reading!

Book source: Copy received from the publisher for review.
PS: probably these images do not represent the characters, as I'm afraid that I didn't pay much attention to their description. Then again, I don't think that the skinny couple from the cover is a better match either ;))