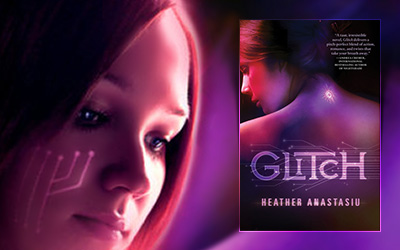 This book was probably definitely intended to a younger audience so there is no surprise that I found it to be a bit juvenile at parts. Based on this I really had a hard time rating it, as there were things that I really liked, but there were some things I simply needed to skip.
If you are in your teen years and you haven't come across too many dystopian books then you probably will love this book, so just pick it up and surprise yourself by enjoying it.
As for me, I am not a teen and I've been reading quite a lot of dystopian books, so I need a book with a dystopian world well developed, with fleshed out characters and believable scenes and dialogue lines. This one surprised me in many ways, but the ones I've mentioned not so much.
Even though there were some things that bothered me, I liked the idea of the story and I felt the need to get to the last page and see where this all was going.
On the good side, I found the concept to be really interesting. I wish there were more insights on the way the world got to be the way it was portraited in the book, but it still got to grab my attention. Imagine an underground world where people are half humans and half machines (not because they have robotic parts, because they don't, not really, but their memories are stored on external/removable devices and they have no feelings, working and living day by day without knowing the beauty of life). Isn't this extremely interesting? Add to this the fact that some of them gain the ability to feel and think and, while they are at it, they get to have some paranormal powers as well and you will have an amazing setup for the story.
But even though we get to know a few things about this interesting world, the focus remained on the main character and how she starts to 'wake up', to really see the world around her, to wish for more and to rebel against the system. And what would be the use of having feelings if you don't start feeling in the presence of a boy… or two.
Even though the romance was a bit underdeveloped, and the insta-love made me roll my eyes too many times to count, I liked both Zoe (the main character) and Adrien (our knight in shiny armor – figuratively speaking off course)
Zoe is a girl you can easily understand for the most part of the story, she doesn't know what to believe and whom to trust and the struggle is obvious, but I wish there was a better delimitation between the before and the after 'glitching' (which is the process of having back your own conscience I guess, which makes you think and feel for your own). I found some inconsistencies here and there (some things she shouldn't have known, names for unknown actions or feelings or smells, or whatever), but if you are not as obsessed as I found myself to be while noticing these things, then you might be safe.
Another thing that I really loved was the way Adrien explained to Zoe the concept of feelings – how love, hate, anger (etc.) felt, and what those feelings could make you do. There were some cute moments involving those explanations… and quite some amount of blush on Adrien's face; and I pretty much enjoyed all those scenes.
Now the character that I didn't like at all was Max.
He was quite obsessed with Zoe and the fact that she acted like a dumb little girl when being around him made me want to scream. Also I don't like love-triangles, so I would have been more than happy if he didn't have so much 'paper' time. When all the love trouble started to take over the action and mystery of the story, it kind of became tiresome and juvenile.
As you can see I didn't tell much about the story because I don't want to spoil it, but if/when you read it I hope you will like it better.
Happy midnight reading!
Book Source: ARC provided kindly by the publisher via Netgalley. Thanks a lot!