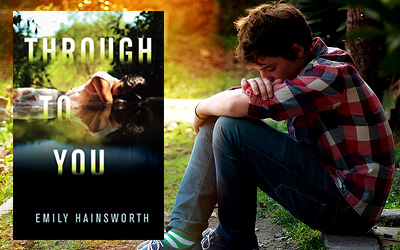 Well, this was an interesting story.
These days I try to read all different books, and so far I've managed to get my hands on some very interesting and refreshing stories.
I've come to see that grief and paranormal/sci-fi can work pretty well together – this book is a nice example.
THE GOOD
The concept:

Two different worlds so different but so similar?
Choices that could change everything?
The other side if the coin?
What happens when two worlds collide? When people are dead on one side but safe on the other, when you would gladly wish to change sides; when the two worlds are incompatible and there's only one place for you…
This story was more about understanding things the way they are, accepting them as hard as it might be, understanding that maybe life is hard, but it can always get worse, having the strength to move on, to be happy again against all odds.
No, this sounds depressing. It is also about beginnings, about accepting the bad things but making better decisions, it's simply about "living" – with you heart and soul and everything you might believe in. No matter how broken you feel at the moment, you deserve to smile again and be happy.
Cam:
I understood his suffering and how much he wanted to change the night he lost everything.
I understand how much he loved Viv and how he wished to hold her one more time, to feel her heartbeat one more time, to save her from the unsaveable, to love her and be loved again.
"I wake up reaching for her and she isn't there. I'm alone in my bed. I bury my head beneath my pillow and hate everything, whisper every impossible thing I've wished for since that night in August. All I get is a damp pillow."
To be honest, if I were in his shoes I would probably do the same mistakes, I would be as foolish as he was, hoping for a second chance and not thinking twice when given the chance to take back what has been lost.
At first sight the other world seemed to be so much better, they all seemed so happy and without worries, but as the story progresses, you realize that there's no better place, that all actions have consequences and all you need to do is find the strength to move on.
THE NOT-SO-GOOD
I couldn't connect with any other character except for Cam.
– Nina was not that present in the second half and I wished for more interaction with her.
– Viv seemed so off I could't make a connection between the both sides of her inner self. I know this was the whole point, but I wanted to understand better the actions that got her to that point (lips sealed, I'll say no more) in the other world. The one clue left behind was not enough for me.
– Cam was a bit naive and quite childish. I liked him in the first half, and I understand that his love makes him stubborn and blind, but at times i just wanted to punch him in the face. Also he was a bit slow with catching on things, and it felt strange at times because I saw things happen half book ahead and it was frustrating to see him beat around the bush uselessly for a hundred pages.
One more thing…
This is not good, not bad, just an observation: the cover has nothing really to do with this story. Except for the reflection that should hint to the mirrored world, the girl on the lake has nothing to do with the girl that died in the car crashing, and nothing to do with her mirrored self. It looks nice though, so for this reason alone I'll forgive it for not matching the story inside 😀
Anyways, this book might appeal to a lot of people, so…
Happy midnight reading!
Book Source: ARC provided by the publisher for review. Thank you!