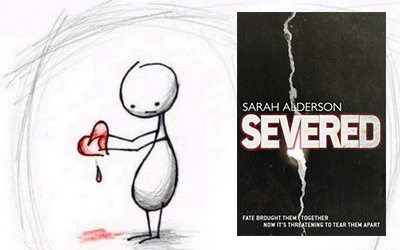 You see, this is what I love on a series: for the second book to be better than the first one; for it to grab my attention, to keep me on the edge of the seat waiting to see what new surprise will come next; for it to break my heart a bit, to make me feel all different emotions from happiness to despair; I want a book to make me laugh and cry, to hate it and love it with passion, to say: "wow, this was such a great story!"
And "Severed" is that and maybe even more.
Where the hell's the next book?
My piece of advice: you should stay away from spoilers before reading it. It won't be any fun to know things ahead. Don't worry, this review is free of those.
No one told me that it would leave me breathless, no one told me how amazing this story can be. You know I didn't love the first book, I didn't even know how much or if I wanted to read the next book, but when I did, it got my full attention from the first page to the last one and then through the preview from book 3.
And damn I wanted more, I couldn't believe where this story got to take us.
It is insane, awesome and awful in the same time. It's creepy how much I enjoy to read something able to break all freaking clichés, something that can shake my world so badly.
I applause you for your courage, dear Sarah, not many writers are capable of doing what you did with this book. It vas brave and even though if it killed me a bit, I can't wait to see what comes next, how things will get solved, how will we be able to put our hearts back together. Because I tell you this, you better have a great excuse for what happened there, I wand a mind-blowing ending to this series to make up for my heartbreak.
Should I tell you more about the story?
I don't think so. All you need to do is grab the book and read about these great characters that are so much stronger now, about this romance that is so much more believable, about the action that is so much more addictive and for the turnarounds that are so much more heart-warming and heart-wrenching and heartbreaking and oh, my.. I need to stop and take a long breath now. Breathe in, breathe out. I still can't believe that happened. It did though, right? Oh my!
Anyways, I loved the new addition in terms of characters: Cyrus was what I'd want a main character to be – charming, ironic, sweet, funny, brave, good looking, noble. And I could go on and one.. don't worry there was no love triangle and I am grateful, because I have a little crush on Cyrus and I would hate to have to fight Evie for him.. No need for that though, as she pretty much in love with Lucas and only Lucas.
So.. my review makes no sense whatsoever, I just can't talk much about this story without spoiling it, and I deeply regret that many people will find out about what happens in the story before reading it. In my opinion you should just stay away from spoilers and read it on your own.. believe me, it's better that way!
All in one, I don't really know one thing that I didn't like about this story.
Yes, miss Alderson, I loved your book to pieces. Congrats, you seem to get better with every story!
Happy midnight reading!
PS: the images represent the author's fantasy cast (from her website)