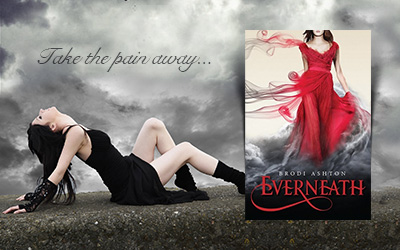 There might be times in your life when you feel that you've hit the very bottom and that you can't take it anymore.
Try to imagine for a moment that you have lost everything you care about. That someone would tell you that it's in his power to take all your pain away.. What would you do? Would you take the chance?
You might say "no", you might say "maybe" or even you might agree..
But what if it is not only the pain that it's taken away from you, what if you're fading away with every memory, with every beat of your heart, with every second until there is nothing but void… you turn to nothing (even with the promise of immortality)
What memory do you think you could keep hidden in your heart to wake you to life, to call for you when you're lost?
Would it be about your family, or friends, or a lover?
Will it be a face, a smile, a happy moment?..
Nikki has lost what she thought that it was 'everything' for her and she has decided that she doesn't want to feel the pain any longer. She has given herself away (when a boy called Cole told her that he can erase all her suffering), now she has no feelings, her memory is back in pieces, and she has a few months to say goodbye to the people she cares about and then she will disappear from this world for ever.
The only thing she recalls is the face of a boy, her first love, and one of her big disappointments – Jack.
Every breath I took meant another grain of sand in my hourglass disappeared, and I only had a few left. I tried not breathing.
With the time ticking her life away she doesn't have many choices.
It all sounds simple: say goodbye to Jack, to her father and her brother. She thinks that she has enough time to prepare herself, to say how sorry she is, to leave it all behind. But simple is just a word, and life is never simple.
…Now old friends come back from the past, misunderstandings are revealed, Nikki's heart starts to feel again, but all the love in the world is not enough to protect her, to keep her for disappearing again.
Her only chance is to use all the time she has to find a way to cheat "fate"; her only chance is to get Cole to tell her what could she do to break the unbreakable, but would he do that for her, or even could he?
I liked how she doubted Cole from time to time, but then her doubts would vanish and the numbness would return again. I liked how she and Jake got to become close again, day by day, how she remembered more of their moments together (oh, how I liked the sparks of life from the memories) and I liked how Jake wouldn't give up on her no matter what.
They were cute together and my heart was breaking with every chapter seeing how little time they had together and how much of it did they waste.
Also Cole was quite a mystery, and one that I would want to uncover. He was fun to be around and if it wasn't for the fact that he was sucking feelings out of people I might have liked him a lot better.
So, if you like paranormal stories with a touch of mythology and some interesting characters, this is your chance. I hope that you will enjoy it as much as I did 😉
Book Source: ARC from the publisher via Netgalley – Thank you very much!

Watch the Book Trailer