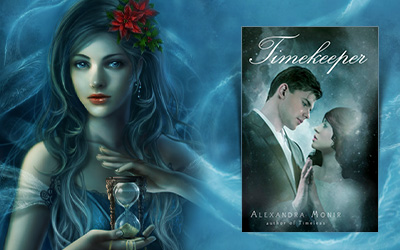 Oh dear. I can't find my words.
I've waited for this book for so long, wishing for it to be mind-blowing, full of twits and mystery and magical history and so I got to read it and then… I hate myself for not loving this book, I hate myself for setting up such high expectations – that's the perfect recipe for disappointment! But truth being told I felt that there was noting really new to it, or very exciting, or extremely romantic *sigh*
If you've been following my reviews you should easily make the distinction between the books I love to pieces and the ones I.. like?. Because sometimes I just feel the need to smash my keyboard over my head trying to find the perfect words to describe a story and my feelings for it, but sometimes I do the same only trying to understand what in the world was missing that made me not love it as much as I hoped.
I've waited 2 years for "Timekeeper", I've been dreaming about it, I read the short novella "Secrets of the Time Society" (which I loved to pieces) and thought that the aftermath of the events from it would turn my world upside down. And yes, there was a bit of suspense in this book, a bit of action and a bit of ache, but I missed feeling my heart do weird flip-flops out of the blue, I missed the connection between Michele and Philip, I missed the connection between the past and the present… I wanted to find some related events that could leave me in awe, you know.. like all the puzzle pieces that made the first book "whole" at the end of it, so beautiful and unforgettable. And now I hate myself for making comparisons between the 2 books, as it is not really fair.
Oh.. Don't think that this is not a good story, because my rating is my witness here and it can tell you that I did enjoy the story – so you might as well. It's just that I can't overlook the things that bugged me.
In fact, maybe if I haven't read the novella I would have liked it a lot better too. Because you see, I knew what was coming and I never got to be surprised. I wanted the world to explode when Michele's and Rebecca's worlds were to collide, but all I got was this quick resolution that filled me with an emptiness that I can barely describe.
Such a bittersweet taste: to have the things you wanted and still not be enough. *sigh*
On the good side:
I liked Michele's father, his story, his journal entries that let us know more about him and his relationship with Michele's mother.
In the first book we saw Michele go back in time, trying to adapt somehow to that past life. Here we got to see things differently, in this one Michele's father realised how technology has evolved over the past century and it was heartwarming to see and feel his amazement. Yes he was a bit naive and selfish, but i understood his need to see the future, to be part of it.
Not sure how getting back to the past got to help Michele's mother though, but I'll just skip that part altogether.
Also it was great to go back to a world I loved so much, the magical world Alexandra has created in Timeless, where you can travel through time and find things you thought that have been long lost.
But on the other side of the coin…
I won't lie to myself saying that the 'old' love story was perfect (I mean the one from Timeless), it was love at first sight and if I stop to think about it there was not much of a base for those (very) strong feelings, but there was this magic surrounding our young couple: the dreams, the music, the atmosphere from the past century. It was all so magical and I fell for it all.
But this new story between Michelle and the new guy (that might or might not be her Philip).. it just didn't work. It was awkward, it was too quick, there were sparks missing and I just couldn't make myself care.
I had this feeling at some point, while reading a teaser, that Michele will become this angsty girl pining for the new boy, and he will be that new guy involved with the popular girl, and it will all be too cliché for my taste. I can't say that I was wrong. Not to mention that he ignored her half this story and then he just believed in half the page all she had to say.
Also, truth being told, I might not be able to come up with a different (or better) solution for show
, but it was just too convenient. Like the drop filling up the glass, you know. I overlooked many things before, but this time I just wanted more.
I read Rebecca's story and thought that she will have a big, big role in this book. Silly me. Did no one ever told me that high expectations are only meant to crush my heart?
She was like this bad wolf in a cage, that scared everyone but never got the chance to bite them, you know what I mean? No?! I'll explain then: she was waaaaay to easy to defeat (interesting concept, yes, but I so wished for some confrontation between them, for a bit of fight, for a bit of danger.. I don't know, something more. Why all the suspense if the resolution was so easy? Right?).
Still, now I might understand Philip's conviction that he will find a way, it kind of makes sense how sure he was about it in the last book.
CONCLUSION:
Anyways, the fans of the first book might like this one.
I deeply suggest not to read the novella, as the things from it will be revealed at some point in Timekeeper as well – it might keep up the suspense and you might get to enjoy it a lot more.
Happy midnight reading!
Book trailer:
I simply love Alexandra's song for this book!