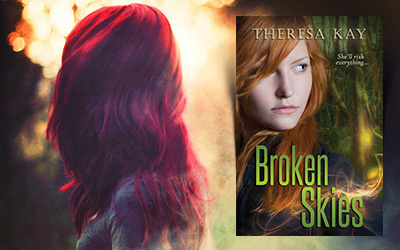 You know that I don't have a reading plan, so it shouldn't come as a surprise that I had other books in mind when this one caught my attention. I just wanted to read a few pages to see how I would like it, but the thing is… I couldn't put it down until I reached the last page, that's how addictive it was.
The advertising says "Angelfall meets the Lux series" (and I really don't know about that), to me it was more like "Under the Never Sky meets Of Beast and Beauty", though this story stands on its own. But I am not making comparisons of any kind – there were just some small elements that reminded me of those stories, nothing more.
BROKEN SKIES tells a story of a broken girl in a broken world, searching for her brother and teaming up with a guy that might as well be the enemy. It also tells a story of adventure, with so many turnarounds that it might make your head spin.
What I liked the most was the fast pacing. Things kept happening and the few breaks we took only helped with the development of the relationship between the two characters, Jax and Lir. And these two did make a great team when the tension between them finally got to loosen up a bit. Though nothing lasts forever in this book, and what goes around comes around.
Like in most dystopian stories the romance is quite a bit in focus, but it never overshadows the actual plot. Both characters have their own agendas and reasonings behind their actions. Some might be transparent (for all to see), some will probably be explained in the next instalment – which I really-really want to read!
Jax is not the typical girly girl – based on her life experience she pretty much prefers to be prepared for fighting rather than learning how to be a good wife and help with the preservation of humanity. But deep down, Jax is not really as tough as she wants (us) to believe, she also has a fragile side of her, one that she very much tries to hide, so her actions at times tell a different story.
I must confess that for a while I was not her biggest fan, because she is a bit childish and very impulsive. Not to mention how easy it is for some people to manipulate her influence her decisions. But she is only a little girl in a big and scary world, it's no wonder that there are things she can't handle alone.
Lir… Well, I can't say much about this alien boy without spoiling the story in a major way, but as strong as he seemed to be in the beginning, he wasn't as prepared for the life outside his city. He comes around as a bit hard to read, he keeps too much to himself and I would have loved to know him better.
The thing is.. We only know what Jax knows and she is not the most reliable character out there, so there is plenty of confusion regarding each character we meet through the story.
As I said, there are plenty turnarounds to surprise us, and that's a good thing because it keeps the reader on the edge, even though it adds to a bit of confusion. But there are also things that I did anticipate, things that Jax didn't see coming even though the clues were pretty evident. Funny thing: there was a lot of fainting and loss of consciousness, at some point I started to guess where will our girl wake up and to what. I was not as good as I want to believe at this guessing game, LOL, but it was still fun.
CONCLUSION:
All in one, I did enjoy this story a lot and I can't wait to see what comes out next. There are so many questions I have, so many answers I need and there's plenty of space in my heart for the next book, as I hope to enjoy the sequel even more!
Happy midnight reading!
Book source: A copy has been provided by the author for review. Thank you!