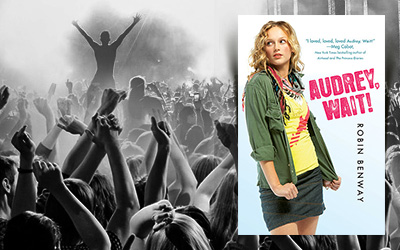 I am afraid I won't be able to make justice to the cuteness of this book or to put into words how amazingly fun this story has been, so I will leave the proof below for everyone to see it.
Even my t-shirt was laughing-out-loud while I read this book:
Oh well, I lied, I took this picture quite a while ago, but it fits the situation perfectly :p 
So.. I've had this book for a while (Christmas in fact), but it wasn't until I saw it rated by someone on GoodReads that I remembered having it. Now, all I think is what the hell went through my head that I didn't pick it up sooner?!
Because for me it was that awesome!
I think I've underlined half of the book and 99% of those quotes are laugh-inducing.
The are some notes I made while reading it:
If I go to sleep tonight and then wake up in another story, I want it to be Audrey's.
If I have a bad day and I need a story to make me smile again, I would read Audrey's.
If I want my parents to be the best parents ever (even though they are quite great), I want them to be like Audrey's.
If I can choose new friends to keep my mood up and to have fun with, I'd pretty much wish them to be Audrey's.
I was about 3 pages into this story when I declared it the funniest book I've read so far, but it's good humour, from great characters in amazingly funny situations, with strong personalities and optimist thoughts even at their worst.
THE GOOD: 
I liked the irony of it.. you know, how Audrey loved music so much and how one song got her life to suck so badly.
I am of course no expert in the matter, but it all seemed plausible (timing and events) from how things started, to how popular the song become, to how Audrey's life started to spin out of control and how some tiny little details in her life got to take enormous proportions out of thin air, over the night.. you name it.
Also.. Some authors try to make us think some things just because they say so, while other show us through the story, through the characters thoughts or feelings or actions.. I prefer the showing  – it makes me connect better with the character.
For example – some authors try to tell us that their characters love music, so they say: "X" loves music. Ho ho hoo!
Robin though will give you a detailed description of what music feels like for the character and how loud Audrey likes to listen to it.
"You have to turn it up so that your chest shakes and the drums get in between your ribs like a heartbeat and the bass goes up your spine and fizzles your brain and all you can do is dance or spin in a circle or just scream along because you know that however this music makes you feel, it's exactly right."
Anyways, what I am trying to explain is that, even though this was a light read, you could connect with the characters, know them better and understand their actions (well, most of them anyways).
THE NOT SO VERY GOOD:
What lacked was the romance (it was not at its best).
I didn't get the relationship with Evan because -after the breakup- Audrey focused mostly on the bad side of it, so I didin't feel how close they really were in the beginning.
As for James, their relationship was just convenient and not heartbeat-skipping.
Then, there's the best friend – she was quite funny and in the beginning (I simply loved her), but at some point I wanted to punch her once or twice – it was all about fame and benefits with her and she forgot to take a look and see how Audrey really felt about all that messy situation. I got her point in this, but I must tell you that I wasn't impressed at all.
CONCLUSIONS:
If you want something fun but well written and entertaining, just keep in mind this book as it is absolutely and amazingly awesome!
I would also recommend Amplified, not only they are both about music, but the humour is similar. Your face will gonna hurt like hell but you will love it!