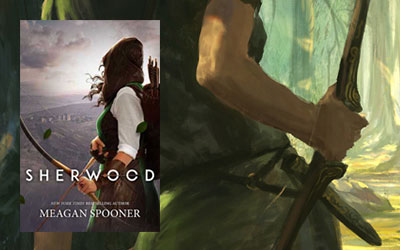 It pains me to give it this rating, as I love this author's style and her previous books, but for some reason this book only half-worked for me. I enjoyed the beginning and the voice of main character, same could be applied to the ending, though it took a turn I did not quite expect.
But.. there's always a but, isn't it?
Sherwood did not have enough adventure to keep me interested (when I think Robin Hood, I imagine plenty trouble to be had; believable action preferably), also I did not believe that Lady Marian was able to do all the things she accomplished – I was told more than I could see, and most of the times Marian was full of doubts, so I couldn't help but doubt her myself.
I couldn't even understand how people close to her would not recognise her, or would assume her to be Robin. There were things Marian did (as herself) in a way that was obvious that she was involved with Robin – or Will as a matter of fact, and still people were oblivious to all of that, and I became frustrated with it more and more.
On the other side, I wanted Robin's chapters to make me feel a bit more emotion, but unfortunately they didn't. Those were sweet moments long gone, meant to both bring a bit of nostalgia and make us understand how Lady Marian got to have her particular skills, but they did not add much to the overall story and they did not manage to make me fall in love with their love story or to grieve for it.
In terms of side characters, I did not become attached to anyone (in fact, Marian included). They were there, playing their roles, but they felt flat. Even the antagonist acted randomly – don't get me wrong, I understand why some things were described in a certain way ( show
), but it all comes back to believing the full picture.. which I did not.
There was also the law breaking and the way it was enforced (or rather not). I mean, there were some serious issues here and, even though I am all for protagonists to get away with whatever in fiction, it still felt very wrong at some particular point. Maybe that happens in the original story too, I wouldn't know, it just made me feel a bit uncomfortable.
Conclusion:
Sherwood was entertaining, but lamentably it was not a book for me. The writing was good, I just couldn't connect with the main character and I wasn't really immersed in her endeavours.
I am still highly grateful for having the chance to read it in advance.
ARC received for review. Thank you!
Publication date: March 19th 2019 by HarperTeen