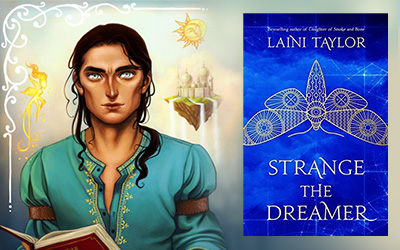 There are books that seem to live in the depths of my heart. Books that I breathe in and never breathe out, books that seem to take control over my emotions entirely, books that get tattooed on the edges of my soul because I never want to let them go.
And I never want to let go of this story… I want to get lost in it once more like in the sweetest dream.. a dream that feels so real, so raw, so beautiful even in its darkest corners.
Don't let me wake up, just let me live in it forever!
The beginning of the story was, like dreams usually are, a bit fuzzy. I didn't know where the story was intended to go and Lazlo's naivety and good heart made me nervous. I wanted to hug him, to whisper words of wisdom in his ear and make all the hurt and struggle go away.
Then I met Sarai (along everyone else) and everything started to unfold.
Bit by bit.
Step by step.
Dream by dream.
And I loved everybody, I loved the side stories, I loved the history hidden in the forgotten city. I loved the magic, and the tragic, and all that was lost in between.
Laini has this way of creating magic with her stunning words; with them she paints creative, vivid worlds and gives birth to beautifully flawed characters. She makes my eyes tear with emotion, she makes my soul ache. Because there is so much hurt, so much pain, so much to atone for in this story. Because there is no good and bad, no turning back from the horrors witnessed, there's nobody left unscarred.
But in all that fire there are embers of hope. There is love. Between the nightmares comes the genuine, pure smile of a dreamer. There is that sweetness that tries so hard to overpower the bitterness.
I'm at a loss for words, I can only tell you how much I loved this story, just as much as her previous series. The writing impeccable, the world-building incredible, the turnarounds heartbreaking, the waiting for the next book pretty much impossible! I can barely wrap my mind around all this beauty.
Sometimes the book chooses its reader. Not the other way around.
Wow, wow… I have no more words, just… wow.
Some Instagram Love