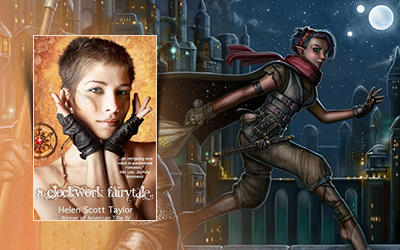 ! Minor spoilers ahead !
Today I am just too lousy to avoid them, so please be careful and don't read if you don't want to know anything about the story. They are not big, but be aware that they are there.
"The heart is heaviest when it's empty and lightest when it's full"
So..
Once in a while I like to read a fairy-tale.
No, I don't think they are meant for kids, in fact they are meant for everyone – they give us hope, they make us dream, they make us believe.
They remind me of the time when I was a little girl and I used to curl up in a bed listening to never-ending stories.. It's somehow comforting. And when the characters are as innocent and sweet as these ones, it makes me feel all warm and bubbly inside.
The thing is I liked Mel, and I liked Master Turk – they were so different but also alike:  tough in a way (he – a spymaster, she – a little thief), but soft and innocent in the another (mostly when it comes to each other). They had chemistry, they were funny, they made a good pair and I loved them together.
Mel is really enjoyable. She is a thief as I said, but also she is a lost princess (not really a spoiler here), she was raised by a commoner  (which makes her lack some manners) and she is always doubting the intentions of the people around. That was a great thing to do, as I didn't trust them either.
"Men got all seamed up over their funny little floppy bits as if they were something special"
Master Turk is  a  spy master, a good one as they say, and *wait for it* a monk! – which will only bring some drama on our plate, but I must confess that a little girl trying to seduce a monk it's a funny thing to watch. *big smile*
"A man can not use his heart and his head at the same time."
Every time they were together I had this silly grin on my face, and I enjoyed seeing them cross the border from stranger to (somehow) friends and then to lovers. Not to mention all those situations they got into that made me laugh so many times.
Usually you would think that fairytales are predictable (I would think that as well), but  after reaching not even 50% of the story and realizing that at that point the story was not going to end as I've predicted (thanks God I'm not a fortune teller because I'm doing a pretty lousy job at it), I just decided to let it surprise me. And it did.
Now, I will split this book in 2 as I really, really enjoyed the first half, and just not as much the second one. Don't get me wrong, there was a lot of action and pleasant moments in the second one, but somehow it felt like running into circles and it gave me the impression of deja vu, but not resembling other stories… I will explain in a while.
The love story is great in the first half and that's because in that part Mel and Turk have more time together, to win each other's trust, to flirt in an innocent way, to enjoy each other's company, to make me laugh, to conquer my heart.
Still, I wish I didn't know about the bad guy, or not so early (as he was narrating his own chapters).  As I knew about him and it didn't take long for the other to catch up, it felt just too easy. I wanted some more mystery. Ok, you are right, in all fairytales you know who the evil is, but still there was something missing, or so I felt.
Now the thing that I didn't like at all, and had to cut a star from the rating was the fact the second half of the book was all about running.
Running away and being caught, and then running away and – guess what? – being caught, and then, some more running just to be caught again (damn it!).. And the ending felt abrupt, I mean why did they need so many confrontations if they were able to get rid of him so easily in the ending? I'll never know.
To end in a good note, I LOVED the flutterbys.
"The're called butterflies, Melba."
"Master Maddox said they was flutterbys because they never stay, they flutter by."