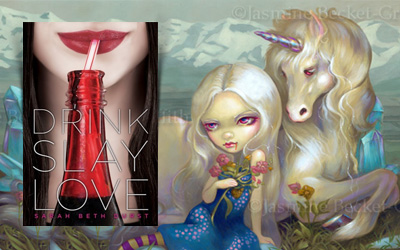 When I first came across this book featuring vampires and were-unicorns, I thought: "what the hell, this should be fun", as fun as any parody can be.. and it has been for a while, with Pearl's witty voice and her slow transformation from the soul-less vampire to the 'humanized' one.
But when it got to the point of her choosing between her wanna-be-friends and her family, I didn't find it funny any more and any amount of wittiness was pointless.
I mean, yeah, she had a crappy family, as little as I knew about them I got to hate them all, but still.. if I had to choose between my family and all the people around the world, with all the conscience in the world I would be as selfish as hell and choose my family. Judge me all you want, but this is me. And I don't think that a silly shinny unicorn would change this, not in this life time.
So, as long as I thought about this book as being a cute parody to the all-around vampire books flooding the reading world, all worked for me.
Yeah, it was fun seeing how the author managed to make me laugh about the shiny vampires (we all know which ones) in the same time shoving some shiny unicorn down my throat. It was fun to see how the main character managed to see and judge the relationships between her schoolmates, it was fun to see how she got in even more trouble by trying to solve some small problems..
Now, if only the ending would have been different.
What I never understood was why would she choose to trust her new friends. Why would she risk her family for them. I would have believed it better if she was deeply, over-the-head in love with her shinny unicorn-boy. Love is supposed to make you blind and stupid (as some say), so this is the perfect excuse in YA literature for all the silly decisions the characters have to make.
But Pearl was smart and I expected more from her.
Oh well, she did say that humans were stupid, and she was turning somehow human-ish, this implying that maybe she was turning stupid as well.. that might make sense, either way I had to take down two stars from the rating. It was a bit frustrating as all this went against Pearl's built-in personality and it felt convenient in a not-so-pleasant kind of way.
But if you are not over-thinking the story like I seem to be doing, and I shouldn't either (for god's sake it's an vampire vs. unicorn story!!), then you might enjoy it quite a lot.
Many of my book friends loved it, and this is the reason I picked it up – it was highly recommended by trusted reviewers – but I can't love them all, right?
Happy reading!