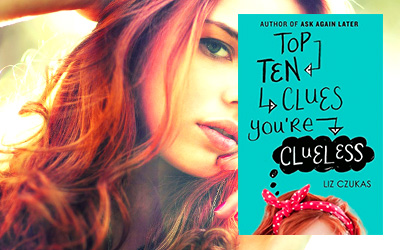 Lovely characters, sarcastic voice, a bit of mystery and plenty of fun – this book is full of awesome. It is a story about life, about how easy it is to misjudge people, how easy it can be to make friends if you open up just a bit. It felt real, it was sweet and funny and I loved it from cover to cover. 
And now I'll let you with ten clues on the awesomeness of this book:
1. The cute, clueless main character
Chloe is such a vibrant character, full of quirks and awkwardness, though truly loveable. She wanted to push herself out of her comfort zone, but she never imagined discovering the magic of friendship in one short night that can change everything.
2. The lovely lists
One of the things that defined her was the list making. They were all cute (some funny, some clever) and I enjoyed getting to know Chloe through them a bit more. 
3. The great cast of characters supporting clueless Chloe
This is a story about friendship (even though the settling might hint at something else) and what I loved about her soon-to-be friends is the diversity, their very different personalities and traits. We have some teenagers from very different backgrounds: Taylor (the love interest) is African American and needs the money for college; Zaina is from Middle East and faces her family's beliefs; Micah is a very intelligent home-schooled boy; Gabe is assumed to be a golden boy; and Sammie is foster kid, very sharp on her exterior but lovely if you get past that shell.
They all suffered at some point because of the labels people tend to put on them and I loved finding more about each of them.
4. The Christmas spirit (delivered in the middle of my summer)
I read this book in June, but it kind of made me long for the holidays to come already. It was cheery at times, though it had it's own deep meanings too and I was even tempted to listen to some Christmasy music to go along with it.
5. The perks of working in a grocery store (fun facts)
Over the time I didn't particularly think much about what it means to work in retail, though from time to time someone in the supermarket might get my attention (and sometimes I do like to play this game of trying to figure out the background of the people before me, based on their purchases, because it's fun). Anyways, this book seemed to describe an authentic experience – the holiday rush with the never ending orders, the picky clients, the cleaning, pushing carts through the winter slush and also listening on repeat to holidays playlists.
Of course, what really got me was the fun facts, the fun experiences, the funny clients in pyjamas or costumes and so on.
6. The plot line – a bit of mystery & tons of friendship
There is a bit of mystery in this story – predictable though entertaining, but what I did enjoy was watching the characters run around the store after it was closed, while trying to solve the 'crime', getting to know each other and forming an heartwarming friendship. It was not the destination, but the journey.
And, as I said, there is more to this story of finding friendship (and even love) in unexpected places: I loved watching Chloe get closer to all the other characters, making new friends and trying to give up on all her prejudices.
** One thing though.. I didn't understand why in the world didn't Chloe get something to eat (store closed and all, it was her life after all).
7.  The race against the clock
This books describes an eventful day worthy of our full attention. It is fun, it seems plausible and it's well defined in terms of plot timing and character development. I love stories that take place in such short amount of time, it's like there is a bit of magic in them, or so I feel.
8. The cute romance
This was not a major point in the story, but it was sweet and I enjoyed the interactions between Tyson and Chloe. Tyson was ambitious and a bit goofy and he had a fun personality. I felt that he was a great match for Chloe, because they balanced each other's qualities and flaws. 
9.  Again, the diversity!
It's all about perception, how you see some people, when you don't know them at all, and how your feelings change with every discovery you make. "Top Ten Clues You're Clueless" is a story that delivers deep messages about acceptance and even for that alone I would recommend it.
10. Now it's up to you…
I could tell you how fun it was and how I liked the writing, I could tell you many other things, but I won't. You go read the book and give us more clues about why this story is worth reading, because I'm sure you'll find plenty.
I wish you all a happy, joyful season!
Happy midnight reading!

Book Source: Advance copy provided by the publisher for review. Thank you!