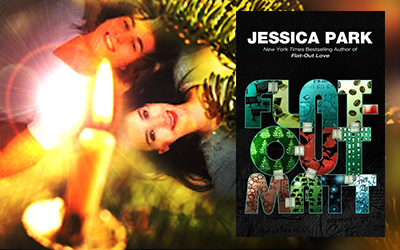 "Julie Seagle just 'checked in' to your heart".
In fact that was Matt.. and I'm talking pretty much about my heart here ;))
I didn't quite acknowledge my deep feelings for "Flat-Out Love", not until I picked up this tiny book and realized how much I loved the characters, how much I missed them all.
It was always the dialogue that won me over. The genuine honesty with which the characters talked, the humor in their lines, the teasing behind their little chats, all the feelings that were hidden underneath their (apparent) composed attitude.
When a book is deep but still remains sweet and funny, when a book touches your heart, breaks it a bit but still manages to make you skip a beat.. That book is well worth it.
And this Flat Out tiny series is simply wonderful because it does not only that, but a lot more.
I was assuming that this book might be a bit 'lighter', Matt being a guy and all that, but now I don't even know why I got that feeling, because I knew what he has been through and how hard it must all have been for him. He made mistakes. Big ones. It's hard to forgive someone for manipulating your feelings the way he did, but how can you not love him? How can you not care for him, root for him, how can you not understand his need to pretend to be whom he would like to be, his need to rip out all the pain, his need to run from all that hard work at home, all the parenting job he has done.. And then be just young again, be wild again, be in love and be loved even though it is just an illusion.
I know I am making excuses for him, but this is because I get him. I really do, with the good and the bad.
He was broken and he took a chance and risked it all for a dream. I don't hold it against Julie for having a problem with it, I still applause her decision not to forgive him right-away, but I am glad that the mess was cleaned up nicely and they got to be the people they wanted to be.. Together.
The author mentioned that the ending from the novella wouldn't have matched the tone from the first book, I am not sure if it did here either, as this book felt quite a bit heavier than the first one so I still found it to be misplaced somehow, but she did write it for the fans so hopefully you will enjoy it.
Other than this, the novella was absolutely great, the pacing and the jumps between scenes quite great for a short story. I would never-ever recommend to anyone to read it before the first book, as it starts with the spoiler of the actual story. I am just mentioning it, it's pretty clear that it is meant for fans and you can't be a fan unless you read the book first, LOL. But this is a great story so go pick up the actual book and read it!
Back to Flat-Out Matt, I really hope that you will enjoy it as well, it is really one of the best short stories I've read and I am really happy to have Matt's side of story – I loved this guy and I am his biggest fan even though he did some pretty big mistakes.
Happy midnight reading!