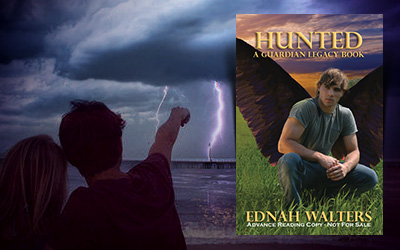 This is a series that many people don't know about, but one that I've enjoyed enormously over the years.
I fell in love first with Awakened a few years ago and I can tell you that the book had me laughing more than not and staying up late to finish it. Then Betrayed came over with plenty of action and mysteries and made me fall more in love with the pack of characters. Now, they have all become a big happy family but something dark threatens to throw them appart.
I must confess that I had high expectations when I started reading this book and (as it happens always with the advanced copies I receive) I was afraid to pick it up because I wanted so badly to like it. Also, it's been a while since I read the other books and my memory didn't help me with remembering where the story ended. But that's OK because during this book some information is brought back to us, such that we don't feel lost into the story.
The beginning of the book didn't grab me like the other ones did. It's not that it's slow, but somehow it advanced up until some point and then it took a step back.. and I am still unsure of how important that detail was or if the story wouldn't have been the same without it. I thought it was supposed to bring some major drama into the play with our main characters Bran and Lil, but I was glad that it didn't – I liked to see them happily together 😉
What I really-really liked was the connection between the characters. We get to find more about our young guardians and we see their friendship get stronger and stronger through their interactions. For a moment my heart skipped a beat thinking that Lil might get involved into a love triangle, but the author stayed away from it once more (YES!) – and I hope that she won't ever take that path as I wouldn't enjoy that at all. Still, there is a complicated situation regarding some secondary characters and I can't wait to see how that evolves in the next book. (I wasn't expecting it, in fact I had a completely different story on my mind, but hey, I love surprises!)
"Beautiful. Smart. Impossible. That is who you are."
We also found out more about the world, about how things work, what other rules there are (there are things that even the older guardians don't know how to handle). Also there are quite a few new characters – some you will love, for some you might want to buy an one-way ticket to Tartarus.
I don't want to spoil much, but things are getting complicated. I didn't enjoy that some 'past things' didn't stay in the past (I am cryptical but I have a reason for it) and there were some characters that make it so easy for me to hate them, but all these complications are getting us to the final point, which came as a bit of a shock. I really thought this book was supposed to be the last one, but it is obviously not and now (of course) I can't wait to see how we will get out of this whole mess.
While we are at it, I really-really wish for the kids not to do things behind the elder's backs. They all try to hide things from the others (young and old) and this is always getting them ALL into big troubles. After so many time you would think that they would learn to trust each-other, but it seems they are not. Also the kids are not quite punished for their disobedience and this is starting to rub me the wrong way.
Anyways, fans of this story will definitely enjoy it. It has mystery and action and love, and it will leave you wishing for more 😉 The characters are really great and fun to be around and after all this time I feel like I know them all.
I have one more thing to say and I've probably said it on every review so far:
I really don't like these covers.
For the love of whatever you believe in, I really know that this is the reason why people are not compeled to read these books, and it makes me so very sad. Because the story is so great and so much better than many popular books out there and I wish someone would just design better covers to grab people's attention. I don't want to offend anyone, but I would really want to see some fresh covers (that would appeal to the young audience) for this series in the future.
Happy midnight reading!
Book Source: ARC received for participating on Hunted by Ednah Walters Blog Tour blog tour at iamareader.com
Giveaway:
Also Ednah's fans have the chance to win
a $25 Amazon giftcard or PayPal Cash.
Good luck!
The giveaway ends on 4/28/13.
Open only to those who can legally enter, receive and use an Amazon.com Gift Code or Paypal Cash. Winning Entry will be verified prior to prize being awarded. No purchase necessary. You must be 18 or older to enter or have your parent enter for you. The winner will be chosen by rafflecopter and announced here as well as emailed and will have 48 hours to respond or a new winner will be chosen. This giveaway is in no way associated with Facebook, Twitter, Rafflecopter or any other entity unless otherwise specified. The number of eligible entries received determines the odds of winning. Giveaway was organized by Kathy from I Am A Reader, Not A Writer and sponsored by the author. VOID WHERE PROHIBITED BY LAW.