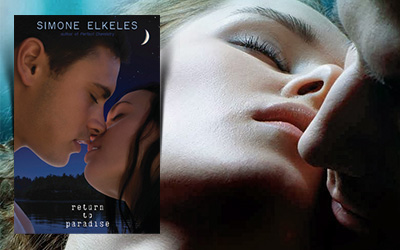 Sweet, fun, entertaining.. I'm glad I read it!
After reading "Leaving paradise" I was so disappointed that I didn't really want to read the sequel.
The first book started so damn good but it was just ok by the middle (except some good parts), and then it ended in such a hurry – I understand why, but i still don't like it. I just couldn't relate to the story at all (I know a lot of people loved it, I just wasn't one of them).
But today I read (and finished) "Return to paradise" and it was really good. I can't think of a single thing I didn't like about this book. Short review: nice story line, better characters and lots of funny moments.
The story is really sweet after all the drama they had in the first volume and (as an improvement) the characters are stronger, making the sequel better. I like the new confident Maggie, I like the dialogue between Maggie and Caleb, I like the hot-and-cold game they play and there are so many funny moments that my face hurts for so much laughing.. it's HILARIOUS!
I love funny books and I love Lenny and Trish and the teasing between them (also between the main characters).. there was such a great chemistry in this book, and all the characters were so full of life! The action felt so natural page after page, I just felt I was part of the story, never getting bored, always wanting more.
It's a great book. If you like sweet-funny romances then you will love it too. I know I do 🙂
PS: This is my favorite book from Simone Elkeles after "Perfect Chemistry"