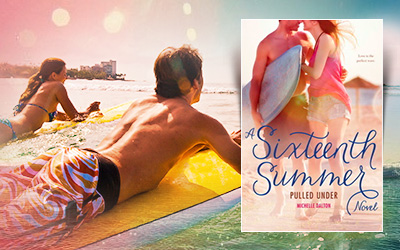 Sweet & cute & funny, a perfect summer read!
A while ago I read and loved Sixteenth Summer, a wonderful story about first loves and new beginnings. So when I got the chance to read another book from the same author, with a similar storyline, I didn't think twice about it, I just dived right into it.
'Pulled Under' follows these new characters in the same way as before, though it still feels fresh and enchanting – the couple (because this is a love story after all) meets, they start to like each other, they wonder about each other's feelings, they get to know better one another, they fall in love, and they deeply fear the end of the summer. It's all sweet and cute and funny, an absolute perfect summer read.
What I loved the most was how the passion (the love even) for surfing was presented – you could feel it yourself, almost 'taste' it even, you could experience Izzy's love for being there, in the waves, letting them wash away everything else. Also there were some fitting metaphors involving waves and life and.. love actually.
Indeed, there was a bit of forced drama/tension near ending (I admit it, hence the 4 stars rating), one that could have been removed easily, but that didn't take much out of the pleasure of reading. Maybe that's a bit part of its charm, LOL.
Izzy, the main character, is stepping slowly (throughout this story) outside her own boundaries. She is trying to be bold, to take hold of the situations, even when she has no idea what she's doing. But she feels real in this way and I could easily relate to her. Then there is Ben,a very cute guy – a bit nerdy, half confident though also half shy. He is smart and I liked that he wanted to experience everything like an insider, and not like a simple tourist.
You can see that Izzy and Ben like each other right from the beginning and during the summer their feelings grow gradually. I kept giggling, watching them struggle their way into this relationship, it reminded me again of first loves and carefree romances, and being young and enjoying summer and fearing to give one's heart away.
The friendship was great as well.
Yes, they pushed one another to some of their limits (and things worked out great for them, even though the mean girl in me wished a bit for something, anything to turn against them, just to give a more realistic feel) but then again this is a summer story with the magic and the beauty of it all.
The thing is, they were supportive, they had fun, they fought for the things they believed in, and I envy them a bit for that sort of friendship. Because, sometimes you need someone to tell you that it's OK to take risks, otherwise you will never push your boundaries and you will never fully grow as a person.
The ending was more hopeful compared to the one I remember in Sixteenth Summer, but my memory might not help me much. It leaves you a bit guessing, but in a good way – it makes you wonder about the path you'd choose if you were one of them (I don't know what I might choose in this case, but not actually based on the love factor – it's just that I dream of living on an island, LOL).
To really understand my love for this kind of story you should read my review for Sixteenth Summer, I am still just as 'in love' with falling-in-love-stories, I am just less able to put into words those feelings these days. I hate this writing slump I find myself in at the moment. *sigh*
All in one, 'Pulled Under' is a great and very cute story; one that can make you sigh happily and dream of endless summer loves. Enjoy it!
Happy midnight reading!