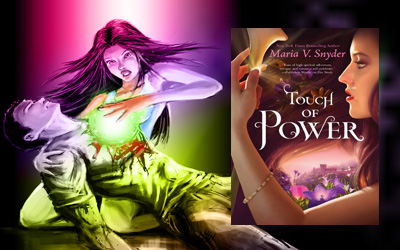 I have this strong belief that you should read someone's books in the order they have been published, because usually the last ones are better than the first ones. Of course this is not a rule, and it doesn't really apply here either.
I had high hopes after reading Poison Study last year. It's not that I feel disappointed, it's just that I wanted more.
More world and character building, a better relationship between the characters, a better bad guy, etc.
For like 3/4 of the book I really liked the story.
THE GOOD:
I liked Avry, her compassion for the humans around her (even the ones that wanted to hurt her), her determination that made her not want to heal a bad person or someone that doesn't deserve it, the way she tried to get away from the 'band of rogues' – but mostly their leader (Kerrick), the cute fights she had with him. Also the secondary characters were adorable. Flea and Belen are the ones that I liked the most, and I understood why she would want to heal them when in need, because they cared for her and they were not ashamed to show it.
Flea was the cutest of the all, Belen made me want to hug him every 5 pages or so, Quin was funny and I found myself laughing out loud, so I couldn't make myself not like her relationship with them all.
As for the hate-you/hate-you-right-back kind of relationship she had with Kerrick, what can say, I always enjoy a good love&hate romance. I liked how he was from time to time her knight in shiny armor, and I enjoyed the hide and seek game – it gave the other guys a reason for teasing, and it made the relation between Avry and Kerrick a bit stronger by sharing a secret. Also I liked how together they were stronger, making a great team.
"I decided I'd heal anyone else, except Kerrick. He could die a slow and painful death – preferably while cold and shackled to a tree. "
THE BAD:
Now, what I didn't understand (nor did I like) was the relationship between this group, the prince that needed healing and the bad guy.
Oh boy, I felt like I was losing my sandcastle to a big bad wave 😐
The loyalty to the prince had no realistic background, and I wasn't convinced that he deserved healing at all. I might understand that Avry did it mostly because of the guys she cared about and because she hated too much the bad guy, but still I don't buy it. Nope, not at all!

The bag guy also made no sense, as he was evil just to make a point – you know how I enjoy a great bad-guy settling, well, this one was not what I expected. He had no reasons to be evil, and it was so easy for the good guys to win the fight with him at the ending that made me feel that all the running around through the story was plain useless. 
It seemed like the book was split in two: before and after splitting paths, when Avry had to go with Semm. (I should tell you how much I didn't like Semm, but I think you won't like it much either, so you might as well discover on your own.)
At that point the dialogue become not only unrealistic but a bit annoying, the characters made some dumb decisions that I didn't understand and made me want to punch them, and even the writing was different, like that part has been written by somebody else.
Still, I think that many of you might enjoy this story a lot better, with it's fairytale feeling and all the action that keeps you turning the pages.
What made me want to read this story was the cover, which is absolutely beautiful, and in my opinion it fits the story quite well.
Book source: ARC fom the publisher, via NetGalley – thank you!